There's no denying that is a city with lots to offer travellers. From jaw-dropping natural beauty and vibrant culture to diverse wildlife and a rich history, it pretty much ticks all the boxes for things you want out of a holiday!
However, as well as the wonders of the city, the surrounding area of the Western Cape also possesses some incredible places to visit during your trip.
Here are some of the amazing things you can do outside of Cape Town's city limits.
The Garden Route
The best way to truly discover the beauty of a place is often to drive around it. Luckily, the Garden Route is both visually stunning and a great drive for intrepid road-trippers.
A coastal belt that stretches as far as the Eastern Cape, the route has a diverse array of scenery that ranges from lush forests and craggy mountains to glorious beaches and magnificent national parks. If you're the type that can only explore the city for so long before yearning for nature, the is perfect for you.
Along the route, you will find no fewer than ten nature reserves and a number of marine reserves, making it ideal for wildlife lovers as well as outdoor fanatics.
For a look into the varied geography that makes up this intriguing part of South Africa, head to The Garden Route National Park and explore the many trails and hikes that have been marked out for tourists.
Robben Island
Infamous for being the prison which held Nelson Mandela for 18 years of his 27-year sentence, Robben Island is a place of profound historical significance in South Africa.
The island is a UNESCO World Heritage site that no longer functions as a prison. Today, it is solely a tourist attraction and a museum that gives travellers an idea of the history of the prison and, of course, its most famous inmate.
Due to the popularity of the island, trips must be booked in advance so if you are intending to go, make sure you arrange this early in your visit to Cape Town. There are six ferries a day, with the journey from Cape Town taking around 30 minutes.
The prison is situated just off the coast of Cape Town in Table Bay, which is quite scenic in itself with groups of African penguins a common sight for those visiting.
Whale watching, Hermanus
Just over an hour and a half's drive east of Cape Town will bring you to Hermanus, a small town that is famous for whale watching.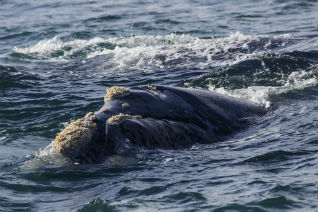 The area has been recognised by the WWF (World Wildlife Fund) as one of the 12 best places in the world to spot these spectacular sea mammals, particularly the southern right whale which is known to frequent the waters around the Western Cape.
A majestic, fascinating beast, this breed of whale is now listed as endangered with only 3,000 alive in the wild. Whale-watching safaris are common in Walker Bay, making it easy for you to arrange the experience. The best times to see these incredible marine creatures are the months of September, October and November, when you are all but guaranteed to spot southern rights in groups.
The southern right earned its name through rather unfortunate circumstances as its inability to dive for long periods and slow swimming speed made it very easy prey for whalers. Because it was so easy to kill this graceful creature, hunters started to to call it 'the right whale', which has stuck to this day even though legal whaling has been banned for more than 20 years.
Although their speed and diving limitations have certainly had dramatic consequences for the species, today it's these factors, coupled with their formidable average size of 14 metres, that makes them so easy to spot in the wild.
Table Mountain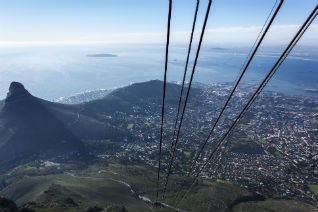 Of course, no visit to Cape Town would be complete without a trip to the iconic Table Mountain.
This incredible land formation provides an impressive backdrop to the city but it is even more incredible up close and even better again from the top!
It's located in the Table Mountain National Park and there are various ways in which you can reach the summit. If the great outdoors are a big draw for your holiday then walks to the top of the mountain range, from a gentle stroll up to the more rigorous hikes, giving you a chance to take in the beautiful, natural scenery firsthand.
For those who are unable to make the walk or have travel time constraints, there is also the option to take a cable car to the summit. Whichever way you get to the top, the outcome is the same; breathtaking views, blankets of white cloud and the knowledge that you are stood atop one of Africa's most iconic mountains.
Boulders penguin colony
Another treat you will find in the Table Mountain National Park is the Boulders penguin colony, home to a population of these endangered African birds.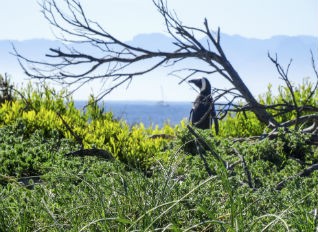 This rare species is land-based and one of very few colonies of such creatures left in the world. Their accessible location has made them a huge draw for tourists and the three gorgeous beaches that surround the penguin viewing platform aren't bad either.
There are three specially constructed boardwalks that surround the colony, allowing you witness the birds in their natural habitat without getting too close as to interfere.
The huge boulders that surround the cove and give it its name also help protect the waters from large waves, strong currents and offshore winds, making it a great place for a dip. However, you should always take care when swimming in these waters, for your own safety.
Images: Thinkstock