If you've got two weeks, why not choose a different island for each week?  If you've got longer, what about exploring even more as each island has its own character.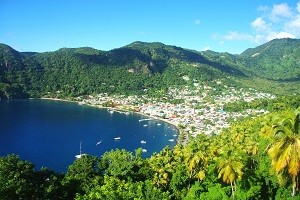 A popular combination of islands is .  St. Lucia is a great place to visit first so you can thoroughly unwind and relax into your holiday.  The stunningly beautiful and romantic paradise island is the perfect destination for doing very little other than relaxing on the idyllic white beaches with a backdrop of lush rainforest and the magnificent Piton mountains.  But if you want adventure and adrenaline there's plenty of that too.  Trek through the rainforest and take a hair-raising zip line, or for something less adrenaline fuelled, a tour of the island's cocoa plantations is highly recommended.
A short flight away is the ever popular island of Barbados.  Famous for its outstanding restaurants and bars, it is home to some of the world's finest resorts and sophisticated high-end shopping.  There's also plenty to do including golf, water sports and sightseeing. You can kayak and water ski alongside palm-fringed beaches, surf on the rugged East Coast and also sample the island's famous rum at the Mount Gay Rum Factory.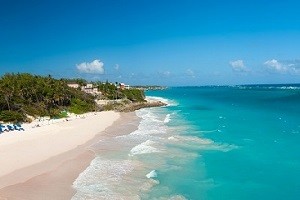 No other Caribbean island can match Barbados for the choice and quality of places to eat out either. Not only does the island offer lots of excellent, upmarket restaurants, but it also has plenty of places where you can eat good, down-to-earth, local Bajan cuisine too.  For a luxe beach lunch try the Lone Star, for celeb- spotting book a table at Mullins Beach Bar and for all out glamour The Cliff is reputed to be the best restaurant on the island.
Alternatively, you could choose to combine for your Caribbean holiday.  Famous for its 365 stunning beaches, Antigua is close to perfection for relaxation too – you can simply wander down to a golden beach, edged by swaying palm trees and lie back and relax by the turquoise sea.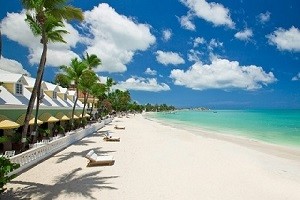 If you can tear yourself away from the beach, then Antigua's historic sites are worth discovering too.  Nelson's Dockyard offers a glimpse of the island's colonial heritage and nowadays is also a great place to enjoy a drink in a bar overlooking the beautiful yachts.
Make the most of the lush island with a jeep safari tour or go snorkelling on the breath- taking coral reef. With abundant marine life and coral encrusted ship-wrecks the view under the water is one of the most popular attractions of the island.
However, if you want to choose a couple of islands to stay on with more of a contrast to each other what about combining ?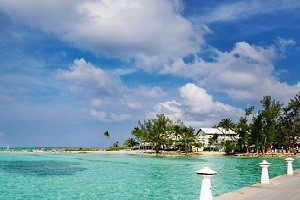 Grand Cayman is known as one of the Caribbean's most sophisticated and cosmopolitan islands.  With a great nightlife, fantastic restaurants and a wealth of luxury shops (all duty free) there's no end to the fun you can have!  Most of the resort hotels are located along the perfectly white sandy Seven Mile Beach which definitely has an air of Miami to it.
The largest of the Cayman Islands, Grand Cayman also boasts incredible sea life so can't be beaten for snorkelling and scuba diving.  Due to the crystal clear water, minimal currents and great diving schools, Grand Cayman is perfect for both inexperienced and advanced divers.
However, if you prefer to stay above water then you can still see some of the amazing sea creatures – visit Stingray City where you can even stand in the water on the sandbar surrounded by the surprisingly friendly creatures.  The Cayman Turtle Farm is also another great place for a hands-on experience.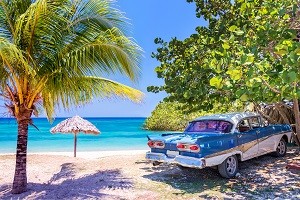 Then for a fantastic contrast take a short flight to neighbouring Cuba which is entirely unlike any other Caribbean island.  Now that relations have thawed with the USA it will undoubtedly start to see changes and modernisation, but until recently it has been lodged in a 50 year time-warp thanks to Fidel Castro.  Consequently, the island is amazingly un-commercial without the ubiquitous brands we are so used to seeing wherever we travel. Instead, vintage cars and crumbling colonnades give it a unique faded charm.
The capital, Havana is a wonderfully colourful and shabby city that rocks to the constant sound of music being played on every corner.  Some of the beautiful old town has been renovated but there are still plenty of old crumbling colonial buildings that make this city so unique.   Don't miss the art-deco Bacardi building with its multi coloured marble interior, the decorative Plaza Vieja with its blue and yellow arches, or the Malecon, the esplanade where the city meets the sea.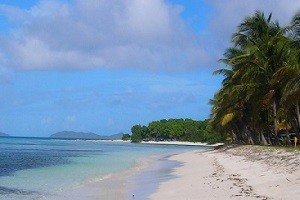 This is a fantastic island to explore if you want some culture and historic highlights on your Caribbean holiday. It's a large island and journeys can be long so choose a few places to visit that aren't too far away.  What about a hike up to the jungle village of Sierra Maestro, high up in the mountains where Fidel Castro's army hid out.  Much of it still remains from when he was resident there plotting the revolution!  The now peaceful mountain range of lush vegetation and wildlife has incredible views to the Caribbean coast below!
After a few days staying in Havana, head to Varadero for some beach time.  Although Cuba's largest resort, Varadero has a laid back vibe and is located on an incredible 20km-long peninsula of beautiful golden sand, perfect for re-charging after your city stay.
If you've got more time though you could really explore a whole lot more.  In three weeks you could combine the popular islands of , with some of the less known nearby islands such as St Vincent and Grenada – now that really would be a total Caribbean experience!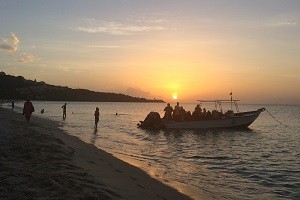 After staying on St Lucia catch a plane for a short flight to the wonderfully unspoilt island of St Vincent.  Here you can enjoy the island's elegance and experience how the rest of the Caribbean was before mass tourism.  With a backdrop of white sandy beaches, lush rainforest and coral reefs you can simply laze the days away gently swaying in a hammock.  If you really want to do more, you can hike to explore hidden waterfalls, even climb up the volcanoes and if that seems too energetic then the sea will no doubt tempt you in for a snorkel.
Keep up your exploration of paradise and head to nearby Grenada for more of the authentic Caribbean experience.  Known as the spice island for all the nutmeg grown on the lush hillsides, this too is the Caribbean of 50 years ago before cruise ships and big resorts.  The charming capital of St George is one of the most picturesque towns in the Caribbean.  With its old buildings, cafes, shops and the Carenage harbour, it's a great place to to wander around and meet the friendly locals.
Combining these five wonderfully individual islands really would be a total Caribbean experience – definitely worthy of a dream holiday!