It is the islands' truly beguiling setting and simple way of life which makes it the ultimate escape from everyday pressures – and one which you'll undoubtedly never want to leave!  Think 'Shirley Valentine', 'Mamma Mia' and 'The Durrells' – they all give you the irresistible flavour of these stunning islands.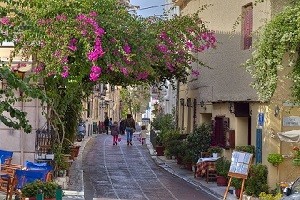 There are 168 inhabited Greek islands located across the Aegean and Ionian seas and they are broadly split into eight groups.  You don't need to go to the biggest islands like Crete, Rhodes or Corfu and stay put, why not fly to Athens, on the mainland and then take a ferry to see some of the smaller islands?  Island hopping around Greece is not difficult, ferries leave regularly and visiting a few locations will make you feel like you've been away for ages.
Once you've landed in Athens you can take a taxi to Piraeus (the main ferry port) and catch a ferry to your chosen island, they come and go like buses.  However, before you rush off, why not spend a few days in the capital to explore the ancient city?  Not only are the Acropolis and many other major archaeological sites well worth visiting, but the city also boasts a thriving contemporary arts scene as well as a happening nightlife.
Once you are on your way from the mainland, one of the nearest groups of islands to visit are the Cyclades and with their diverse landscapes they make an ideal destination without any long journeys in-between. Some have wonderful golden beaches, others have striking volcanic scenery and then there are the archetypal picturesque white-washed towns and romantic hill top villages; these islands together are a stunning variety.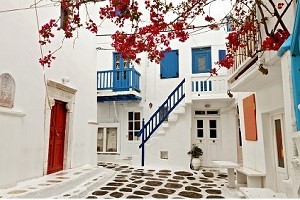 A very popular island in the Cyclades is the glamourous island of  Mykonos.  Known as one of the most stylish, cosmopolitan and upmarket of the Greek islands, it is a party-lover's paradise.  Enjoy spending some time here before then heading onto the nearby romantic island of Santorini.  Incredibly striking and famous for its traditional white-washed villages that cling to the high clifftops, the volcanic island is picture-perfect with blue-domed churches backed by brilliant blue skies and it's also renowned for its' stunning sunsets.
If you've got enough time, add a visit to the nearby island of Naxos to your itinerary too.  Known for its' abundance of long sandy beaches, the island is the largest in the Cyclades.  Like its neighbours, Naxos is traditional Greek looking with white-washed houses and blue-domed churches, but its' charm is its' unspoilt atmosphere; it still retains the laid back character that many Greek Islands had 40 years ago and so gives a wonderful variety to your holiday after staying on .
Or, you may choose to head to the pretty little Island of Paros.  Out of the limelight of some of the more well-known islands but equally as appealing, the island offers something for everyone including water sports, good restaurants and bars as well as ancient artefacts and decent walking trails. The whole island is fringed with golden beaches so there are always some that will be protected from the wind and others with a good surf for water sports.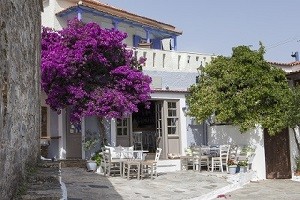 If you want somewhere different to the Cyclades, what about the lush green Sporades that aren't too far from Athens either?  The neighbouring islands of boast some of the most famous soft and sandy beaches in Greece.  Skopelos is an unspoilt island with quiet beaches and is a perfect break from hectic everyday life.  There are heavenly walks through the countryside taking in the dozens of monasteries that dot the hillsides, the island also boasts one of the most stunning ports in the country; the buildings in Skopelos Town cling to the hillside and are overlooked by an ancient Venetian fortress above.  Skiathos, although equally beautiful, offers more in terms of restaurants, watersports and nightlife than its quieter neighbour. With over 60 golden beaches on the island there is no shortage to choose from and many are backed with lush green pine forests adding to the striking scenery.  These two islands together provide a wonderful combination of relaxation and entertainment alongside their outstanding beaches.
Take a look at our page for some more inspiration!