To give you a few ideas about how to sample each different variation of Morocco's unique terrain, here are a few things you might want to add onto your itinerary.
Camel Trekking across the Sahara
The sheer size of the Sahara desert is incomprehensible and its magnitude only becomes more awe-inspiring when you are within its vastness.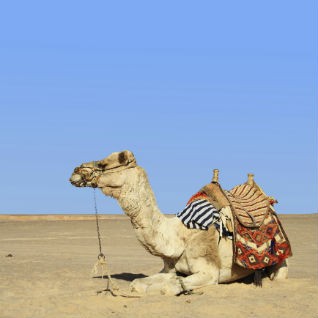 A camel trek through this famous desert's sands is truly a once-in-a-lifetime experience and if you like solitude and tranquility, it's a must for you.
Once you are out there, you won't see anything except desert for miles around. Giant sand dunes pierce the epic blue sky which becomes even more impressive come night fall, and all you have to worry about is enjoying the scenery.
Erg Chebbi is one of the best places to witness this natural phenomena, with the dunes here being some of the highest known to be formed in the desert. Nearby village of Merzouga, located in the south-east of Morocco, is the best jumping-off point for the Sahara and many tourists visit it for this reason.
The Atlas Mountains
The remote beauty of the Atlas Mountains can only be truly understood upon a visit to this mighty land formation. To trek this extensive range of peaks is to discover intriguing Berber culture, peaks topped with snow and deep green valleys, all clustered together in dramatic fashion.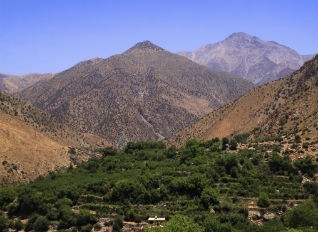 Easily reachable from Marrakech, the High Atlas Mountains are one of the most popular parts of the range to visit due to their accessibility and rugged beauty. Day trips are possible from Marrakech but you may wish to base yourself in Imlil as this is a great position from which to explore the area before heading on to the mighty Toubkal.
The route up the mountain range's tallest peak is one of incredible views and generally takes two to three days depending on the pace with which you attack it. Guides can be arranged at Imlil. During Summer, sturdy walking boots and decent trekking gear should be enough to get you up the mountain. In winter (February / March) you may need technical equipment such as crampons.
As well as the raw beauty of this area, the Atlas Mountains are also renowned for many luxury hotels. Nestled high in the heart of Atlas you will find accommodation fit for a royal. In between all the hiking, why not treat yourself to a few nights of being spoiled?
Morocco's many beaches
With 1,835 km of coastline, you would expect Morocco to have quite a few beaches. The good news is; it does. The better news is; some of them are incredible. Here are a few of the best.
Larache is long, wide and clear, three things you almost always want out of a beach. Located in the north of the country, this otherwise quiet little town comes alive in the summer when locals flock to the sands to relax. It's basically all about the beach here, with the little town hardly seeing much tourism.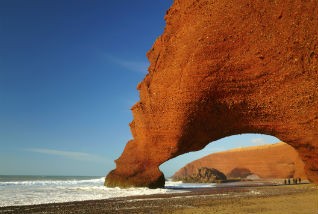 For real, unspoiled beauty, head to National Park of al-Hoceima where the coast offers many scenic and secluded little bays for you to enjoy. As well as the gorgeous surroundings, the waters here are teeming with sealife. Three types of rare dolphin live here, so keep your eyes peeled and you might see them in action.
Mirleft is a surfers haven located on the south of Morocco's coast. The town is tiny, but the beach is extensive and impressive. The watersport scene here has turned the area into something of a cosmopolitan hot spot and it is a great place to explore the surrounding coast.
As a predominantly muslim country, there are certain things you should bear in mind when heading to the beach in Morocco. Women may be expected to cover up even while in the sea.
Ifrane National Park and lake circuit
When thinking about Morocco, deep, blue lakes are hardly the first thing that come to mind. However, the north African country has them, and they are quite magnificent.
Some of the best are located deep within the open karst plateau of the Middle Atlas at the Ifrane National Park.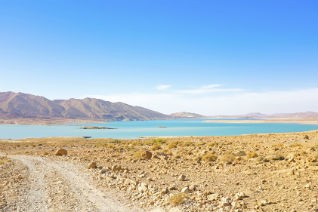 Here you will find four lakes that are simply stunning; Lake Dait Aoua , Dait Hachlaf , Dait Ifrah and Lake Aguelmame Tifounassine. The landlocked expanses of water are nestled securely within diverse terrain that switches from rich red earth to arid vegetation.
As well as the beautiful lakes, you will also find the largest cedar forest in the world here, adding yet another twist to Morocco's diverse landscape. Walk among these solemn, green giants and feel truly alone. You can reach the town of Irfane from Marrakech or Fez by bus. There is little to do in the town itself, but it makes a good base for exploring the national park near by.
Perfect for a multi-centre holiday
Of course, that's not all you can see and do in Morocco – far from it! There's a rich cultural explosion waiting for you in the likes of Marrakech and Casablanca as well.
In fact, you can combine some of these places above with the above cities in order to really make your holiday a multi-centred affair, and we haven't even mentioned Agadir yet.
To give you an idea about what's on offer in these three incredible destinations, here are some of their highlights.
Marrakech: From its bustling markets, to its beautifully ornate buildings, Marrakech is a real assault on the senses. Strolling round the souks of the city, you will see artisan crafts of the highest level as well as experiencing part of the daily culture here. The gorgeous Ali ben Youssef Medersa (one of the largest Islamic study centres in North Africa) is a must-see as is the organised chaos of the Djemaa el-Fna – expect everything from street food to snake charmers!
Casablanca: Morocco's biggest city boasts some of the finest islamic architecture in Africa and the The King Hassan II Mosque is proof of this. As well as beautiful buildings, it's also a good place to enjoy hammam Turkish baths, a popular feature of Moroccan culture. Of course, being a city, it also has its fair share of incredible restaurants, perfect for sampling some authentic couscous!
Agadir: Located in southern Morocco, Agadir is a city blessed with incredible surroundings. There are gorgeous beaches, national parks, mountains and deserts all within close proximity, meaning you can have whatever kind of holiday you want here. The nearby Anti Atlas mountains are a great place to explore, whereas you are also very close to the Sahara.
The 60s design of the resort here adds to Agadir's unique charm and while some say it is dated, others believe it gives the city a quaint atmosphere all its own.