As far as natural beauty goes, Australia has the lot. From the incredible , to the sensational , there's enough going on to ensure your breath is taken away on a regular basis.
But there is one other thing that the land down under is known for: sport. In fact, the Aussies are absolutely sports mad, they'll cheer on pretty much anything!
Well, that might be a bit of an exaggeration. However, Australia really is a great place to watch and enjoy a number of sports. Cricket, rugby, AFL, football, surfing, horse racing – you name it, you can watch it.
So with that in mind, we've put together a mini itinerary that gives you a taste of that world-famous sporting atmosphere as well as a look at the country itself.
Football in Perth
After a long-haul flight to , you'll want to blow off some steam (once you have had a quick nap to get over the jet lag) and what better place to do so than a football match?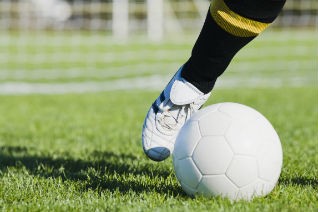 Soccer (as the beautiful game is known down under) is one of the lesser-followed sports in Australia but it is growing in popularity. Perth Glory are one of the best teams in the A League and also have some of the most loyal fans and so this is the perfect place in Oz to catch a game of footy.
The Perth Oval is a compact stadium that seats 20,441, so the atmosphere is great once it's filled with home and away fans. Enjoy the game and cheer on the Glory!
Aussie Rules in Adelaide
After a five-hour flight from Perth, you'll arrive in Adelaide, a charming little city where one sport reigns supreme. Australian Rules Football (AFL or Aussie Rules for short) is followed fanatically in the south of the country and the Adelaide Crows are one of the biggest teams in the league.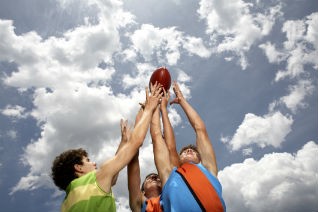 For an outsider who doesn't understand the game, Aussie Rules can at first seem a bit peculiar. The pitch is oval, they pass by punching the ball and the players' shorts leave nothing to the imagination.
However, even if you don't understand it, witnessing an AFL crowd in full roar is a truly special sight to behold. The Crows play at the Adelaide Oval, an impressive structure in its own right, and when the footy kicks off, this 50-thousand-plus seater starts rocking. If you love sports, you have to go to an AFL game while you're down under. After all, you won't see it anywhere else!
Cricket in Melbourne
In general, Aussies are known to love sport, but the folks from Melbourne really, really love it. In this incredible city you can dress up and watch the finest horses compete at the Melbourne Cup, witness the spectacle of the AFL grand final and catch some of the fast-paced F1 action when it's in town.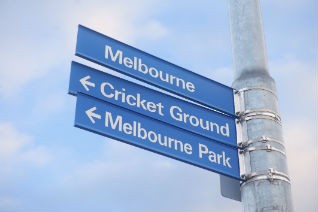 However, there's one sport that you should be thinking about watching in Melbourne above all others: cricket. Anyone who watched England's disgraceful performance in the Ashes earlier this year will know how passionate Australians (players and citizens alike) are about their cricket and it makes for a great day out.
Of course, there's no better place to enjoy the gentleman's game than the Melbourne Cricket Ground. Whether you are lucky enough to catch an international test or just go and see some 20/20 in the T20 Big Bash League, you're in for a real treat.
The MCG seats more than 100,000 people and when it's full, the atmosphere is electric.
Rugby League in Sydney
A short flight (approx one hour and a half hours) from Melbourne brings you to , the biggest city in Australia. Here, like Melbourne, there are plenty of sports on offer but rugby is one of the biggest. There are nine teams from the capital of New South Wales in the National Rugby League (NRL), spoiling you for choice.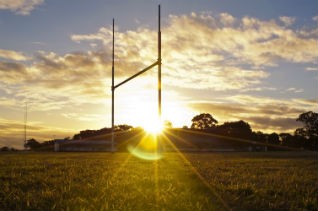 The Rabbitohs (interesting name, we know) are one such team and going to watch them play may afford you the chance of seeing a certain hollywood star. Russell Crowe is a famous follower of the NRL team and can sometimes be seen at the ground, in fact, he owns part of the club!
Brisbane
One final short flight will bring you up the coast to Brisbane, the capital of sunny Queensland. And if you're not all sported-out by now, there's still more left for you to enjoy here.
Home of iconic cricket ground 'The Gabba' and the Brisbane Roar (another top A League side), the city is another hub for sport. NRL is huge here, and there's also an AFL following (although nothing compared to the Southern states of Oz).
By now, you've seen all the above sports in action. So why not try something new in Brisbane? Basket ball, base ball, water polo and even ice hockey are on offer in Brissie and there's also a huge martial arts craze in the city.
Or, you can just pick your favourite sporting event from the places you have already been and go again! It's all on offer in Queensland.
Contact us today so we can create you a unique Multi Centre Itinerary, our check out our most popular for more inspiration.