is the historic heart of modern America.  In 1620 the Pilgrim Fathers landed at Plymouth Rock, in present-day Massachusetts, laying the first foundations of the colony of New England. And a century and a half later, the American Revolution was sparked in this area too.   New England includes six states; Connecticut, Maine, Massachusetts, New Hampshire, Rhode Island and Vermont, each with its own identity, landscape and history.  As there is so much to see it makes a perfect road trip destination.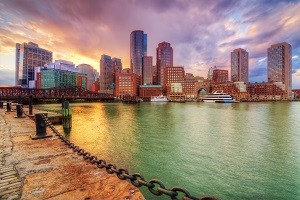 As the capital of Massachusetts…
and the largest city in New England,  (pictured to the right) is the obvious start to a trip to New England.  Boston is packed full with charm and character and being one of the country's oldest cities, everything is within easy walking distance.
Whilst you are in Boston take some time to walk The Freedom Trail which will lead you through 16 historical sites that were important in the city's fight for independence.    If sport is your thing then do try and get tickets for a Red Sox game at Fenway Park, one of the oldest baseball parks in the country.  Or, there is plenty for the Arts enthusiast with fantastic art galleries and music concerts and the Berkshire Hills area hosts internationally acclaimed arts festivals too.
Massachusetts is also home to the endless beaches…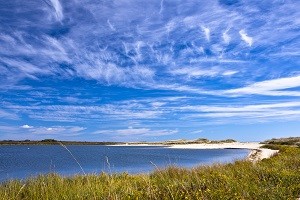 of Cape Cod and the islands of Martha's Vineyard (pictured left) and Nantucket. This is where the USA's elite have their holiday homes and private jetties.  Enjoy the old-school ice cream parlours on the way to Chatham village or seal–watching at Harwich Port, and head to pretty Wellfleet with gorgeous beaches en route.   The World Wildlife Fund has named Massachusetts as one of the top 10 whale-watching spots in the world, so hop on a whale-watching cruise whilst you are here!
Rhode Island is best known for the smart yachts and incredible mansions of Newport – another playground of America's wealthiest families.  Newport remains a popular year-round destination and yachting centre with plenty of quirky shops and great restaurants, and a visit to the nearby Yale University makes for an interesting trip.
Also not to be missed is Mystic Seaport…
Lying at the mouth of the Mystic River, Mystic Seaport (pictured right) is a historic whaling village where more than 60 weathered buildings evoke a bygone era with old-style workshops, traditional stores, an apothecary and a printing press.
Vermont is home to the Green Mountain villages and has scenic drives in every direction.  The historic villages with their white clapboard houses are set around charming greens with red-barn dairy farms.  This is quintessential small town America.  Vermont offers endless hiking, biking, fishing and golf and during winter it boasts great winter sports too.
New Hampshire, with its powerful waterfalls…
scenic valleys and alpine-fringed lakes offers an unspoilt rural vibe.  The Southern Lakes region is fringed by the White Mountains offering a pristine paradise for snowsport lovers.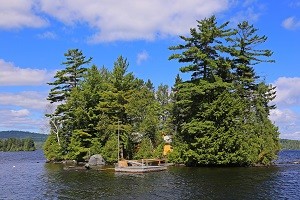 Maine has a rugged coast with old fishing villages and lighthouses.  The area is dotted with vast lakes and forests where moose roam freely. Spot them at Moosehead Lake (pictured bottom left).
And that's just a taster.  There are endless places to visit and explore, and we haven't even mentioned the abundance of seafood the region has to offer or its most famous season, 'The Fall', when New England's trees turn a kaleidoscope of autumnal colours!
Visit New England and other parts of America with one of our .