Attractions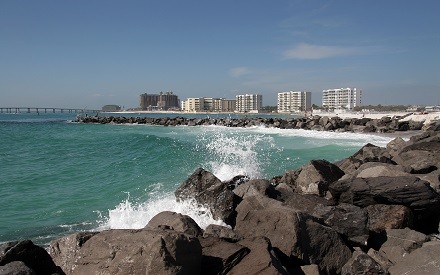 From shopping to dining, and from an array of water sports to carefree live entertainment, Destin's harbour boardwalk is where it's at in North West Florida. Here you can book sightseeing tours and hire watercraft for a wide range of water sports, or you can simply enjoy the food, music and activities along the half-mile boardwalk. The North West of Florida is packed with family-friendly attractions. Big Kahunas Water & Adventure Park in Destin offers thrilling activities for kids and grown-ups alike, with 40 different play areas, slides and pools to choose from. Crab Island, another much loved attraction off the coast of Destin, is a favourite of locals and tourists from all walks of life, who anchor their boats by this scenic sandbar to enjoy crystal clear, shallow waters. While kids hunt for crabs and splash about, adults indulge in swimming or funkier activities, like playing volleyball knee-deep in the water. There's no need to hop back ashore when you get weary, as you can buy food and drink from local vendors. Pensacola provides more cultured entertainment in the form of period architecture, historic forts, museums and art galleries, while the local zoo is your best bet for a day out with the kids.
Events/Festivals
The Mardi Gras festival in Pensacola is one of the most popular annual events taking place every February, and with kid-friendly and alcohol-free zones, it's a nice choice for the whole family. Foodies will love the Destin seafood festival. In early October food stalls line the harbour boardwalk and while you sample the city's famed seafood, you can also enjoy live entertainment.
Sports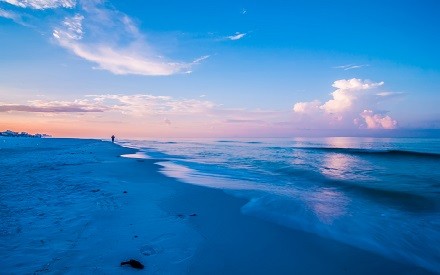 Jet skiing, diving, glass bottom boating, whatever you are after, you can hire it or book it at Destin harbour, which is a one-stop shop for virtually all water sports and water activities in the area. Paddle boats, fishing charters and dolphin watching cruises are all highly popular. An area closed off by a rock barrier, the East Jetties offer clean, clear waters perfect for scuba diving and snorkelling. Experienced divers and surfers, however, usually head further out where Gulf waters are less crowded, waves are higher, and dolphins and sharks glide by undisturbed. On dry land, the Panhandle is also known for its golfing and with more than 50 golf courses from Pensacola to Panama City, you can easily enjoy challenging layouts and beautiful vistas.
Nightlife
Nightlife is lively and varied in North West Florida. While Pensacola is relatively calm, its downtown area packs plenty of nightclubs, theatres and dining outlets. Destin boasts a good mix of bars catering to either tourists or locals, so you can choose which crowd to hang out with. In Panama City the nightlife scene is informal and rather laid-back, and there is no pressure to dress up to enter bars. The city, however, can get very wild, especially during Spring Break. Given that, it is no wonder that Panama City is home to the biggest nightclub in the USA. Legendary Club La Vella offers multiple themed rooms and can house up to 6000 partygoers on a single night.
Eating/Drinking
Lively Destin began its history as a fishing village and to this date it continues to offer fresh catch. Along Destin's Boardwalk numerous restaurants, ranging from rustic to chic, serve up a delicious choice of seafood dishes.
Shopping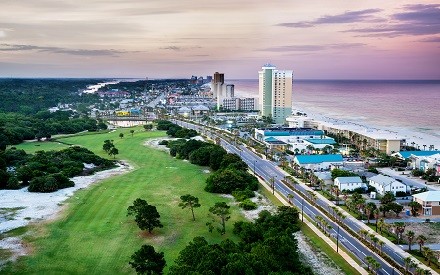 With more than a hundred shops selling both luxury designer labels and familiar high-street brands, Silver Sands outlet mall on the outskirts of Destin is one of the most popular shopping spots in the Panhandle. No less enticing is Pier Park in Panama City, which in addition to 120+ stores focused on apparel and accessories, also has a cinema and dining outlets on-site.
Cultural Info:
Tipping waiters and bartenders is the norm in the US. Not leaving a tip is considered rude, even more so in a touristy area like Florida. Unless you want to insult the staff who serve you, it's best to forget about stinginess.
When to Go
Hurricane season lasts from June until November, although the period from June to August also sees the hottest and most humid weather. The US Spring Break, usually falling in March, is a time of raucous student parties and general mayhem. Panama City has been a Spring Break hot spot for decades and has even become notorious with excessive partying in recent years.
Need inspiration for suitable package? Take a look at our  which features a few stops in the North West of Florida, and showcases Florida's best beaches.