Anyone who's read Hunter S. Thompson's Fear and Loathing in Las Vegas will have a very surreal view of the aptly named Sin City.
However bizarrely the grandfather of gonzo depicted , it's nothing until you actually get there and take it all in for yourself.
The city truly is like Disneyland for adults. The atmosphere closely resembles a carnival, bathed constantly in a neon light, that never stops.
Perhaps the most famous part of this iconic city is the garishly unique Las Vegas Strip, a place where time stands still as late-night revellers and day-tripping tourists enjoy every aspect of this one-of-a-kind desert funfair.
Located on Las Vegas boulevard, the Strip is home to all things glitz and glamour. From ridiculous depictions of ancient Rome to fantastic water features that light up the night, Vegas is a sight to behold. And no it's not the desert heat playing tricks on you, that is the Eiffel Tower.
Getting around
The Strip itself is not actually too long. From the Stratosphere Casino to Mandalay Bay, it's about a 4.5 mile walk. However, if you're visiting in summer the heat can be remarkably intense, so you may want to combine walking with public transport.
A great many of the casinos and hotels are not directly on the Strip and are set back some distance from the street. This can increase the amount of walking you have to do significantly and with the sun reaching up to the 40s (degrees C) any time between May and September, you might want to limit your walking to a minimum.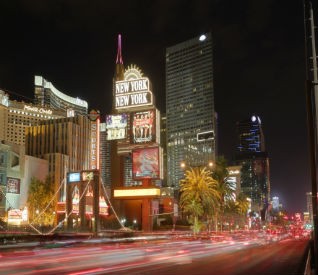 In terms of transport, there are four options other than walking. Taxis regularly crawl the Strip looking for tourists, however, due to the traffic, these can be expensive and not too practical – remember to tip if you do get a cab!
Your best bet may be one of the three methods of public transport that constantly run up and down the Strip. The Las Vegas Monorail stops at most of the major hotels and other tourist attractions, while the RTC bus system is an easy way to explore the Sin City's most famous street.
There are also a number of complimentary transport options that you can use to get from one place to another. Free shuttle services run daily, stopping off at the main resorts on the Strip. Some of the bigger hotels – Excalibur, Luxor and Mandalay Bay – are connected by a free tram service, which is a handy way to get around and avoid the heat.
All on black
No trip to Vegas would be complete without a little dabble on the Roulette table. Even if you're not a big gambler, it's worth just visiting some of the casinos to get an idea of the sheer size of them.
At times, it can feel like you're lost in a maze of flashing lights and ringing bells, but don't worry, you'll soon find your way to the designated walkways that show you the way around.
As we've mentioned above, there are free trams connecting some of the Strip's premium places.
Mandalay Bay is one of the main attractions and the Mix Lounge located on one of the higher floors offers unbelievable views of the Strip at night. Caesars Palace, Circus Circus, The MGM Grand and the Bellagio are all must-sees if you fancy a punt on black.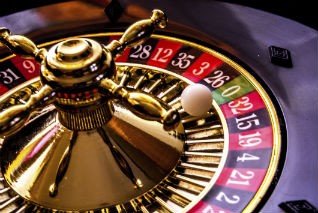 One of the best things about Vegas is its hospitality. By now you know about the free transport on offer but you can also drink in Vegas casinos for next to nothing. And no, you don't have to be rubbing shoulders with the high rollers to get them.
Most casinos will offer drinks on the house in order to keep you in there. Whether you're sat at the roulette table, trying your hand at blackjack or just dabbling on the slots, you'll be well looked after in Las Vegas – just be sure you tip your waiter or waitress $1 every drink!
Catch a show
Vegas is the home of glitzy showbiz – it's not called the Entertainment Capital of the World for now reason! Back in the day, musical heavyweights like Elvis and Sinatra would regularly grace the various stages that the Strip has to offer. Today, the amount of entertainment on available is nothing short of spectacular; music, comedy, theatre, dance, there is pretty much something for everyone.
Currently, there's a smorgasbord of fantastic acts on in Vegas. Popular favourites include The Beatles musical "Love", quirky percussion act The Blue Man Group, iconic American illusionists Penn and Teller and the always fascinating Cirque Du Soleil: Zarkana – to name but a few.
Shopping on the Strip
The Strip is full of malls and shops, giving you chance to spend your winnings on something other than the fabulous entertainment available. Many of the top shopping areas are inside the vast halls of Vegas's hotels. Indeed, Circus Circus, Caesars Palace, MGM Grand, The Cosmopolitan and Luxor all contain huge retail areas where you can pick up a few souvenirs for your trip.
For a more 'authentic' shopping experience, try the bargain stores in downtown Vegas. Aside from picking up a few garish keepsakes for friends and family, you can mix with the locals and get a real feel for Sin City.
In a cab, it will cost you around $20 (minus tip) but it's worth it just to check out Fremont Street where the Vegans do their gambling.
Be ready to explore
The best way to explore Vegas is to just get out there and have a look around. There's so much going on that you'll struggle to have an uneventful day on the Strip. From spontaneous parades through casino isles to wild pool parties, there's always something happening in this intriguing part of the US.
If New York is the city that never sleeps, then Las Vegas is the city that never awakes from one big, fun-filled dream.
Suggested Pages
If you're considering visiting Las Vegas then check out our page, which features some of our most popular USA itineraries. Several of the packages already feature Las Vegas, however we can add it to any of the itineraries or we can even create you a unique package. So if what you want isn't shown or you need advice in finding the most suitable option, just get in touch and we'll be more than happy to help.