With the summer holidays fast approaching, we thought you might be in need of some inspiration, so we've selected some of our favourite hotels around the world that specialise in luxury breaks for for families.  Not only are they ultra-family friendly with lots to do for the children, they also ensure that the adults are pampered and spoilt rotten too, so that you return home having enjoyed time with your precious family but feeling refreshed and not frazzled!
Offering activities for children between 0-16 and with a choice of 8 hotels and 21 restaurants (in peak season) and an almost infinite number of sports activities on offer, you will be absolutely spoilt for choice at this truly fabulous award-winning luxury resort in Sardinia,.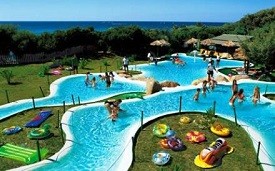 For the kids: What we love about the Forte Village is that it caters for all ages – whether you have a babe in arms or a tempestuous teenager, there is literally something for everyone.  There is a nursery for the under 2s and for those a little older, there is a dedicated 'Children's City' which has its own children's pool and runs a range of creative workshops throughout the day such as musical instrument classes and pizza making. The resort also has its own children's restaurant and for sporty kids, the resort boasts several sports academies including a Chelsea Football Club Soccer school for ages 4-14 plus various other academies which take place at certain times throughout the season.  'Girlie' girls will be in their element at the hotel's Barbie Activity Centre which organises special Barbie-related activities.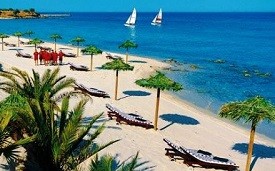 For the parents:  If you're a foodie you will love the choice of restaurants available at the Forte Village.  The resorts boasts 3 Michelin starred chefs (including Gordon Ramsay whose restaurant is open in July and August) and some other spectacular restaurants and bars with a huge range of cuisines on offer.  In the evenings, you can enjoy the buzz of the main Piazza with its evening entertainment whilst sipping a cocktail or two.  If you fancy turning your hand to a bit of cooking yourself, there is a fabulous Italian cookery school on the resort.  While the children are being entertained at the children's club or nursery, why not head to the award-winning resort spa or read a book by one of the many pools.   Of course, there is much more to Sardinia than simply the resort, so why not head to one of the island's beautiful beaches or explore some of the ancient Phoenician or Roman ruins.
Al Waha At Shangri-La's Barr Al Jissah Resort & Spa – Oman
For something a little more long-haul, we love the Al Waha in Oman.  It is one of 3 hotels within the Shangri-La's Barr Al Jissah Resort and is the most family friendly of them all.  In our opinion, this hotel is suited more towards those with school age children (due to the fact that there is no nursery) however for older children it is a total activity paradise!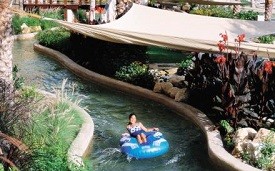 For the kids:  There is a supervised children's club for kids aged 4-8 (those under 4 may use the facilities but must be accompanied by an adult) and a daily entertainment program including interesting activities such as henna painting and treasure hunts.  The Adventure Zone is a great place for both young and older children to hang out with PS3s, computers, a climbing wall, soft play areas plus 3 slides with the ultimate 6.5metre 'Demon Drop Slide'. The children's pool is a great place for children to splash about, but they will also love the lazy river and the Splashpad which has a combination of jets, water effects and sprays to keep them entertained!  Gamez is a great area for teenagers with snooker, video games, electronic darts and air hockey.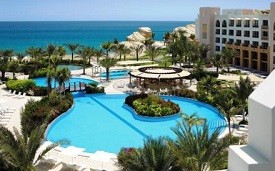 For the parents:  With the children occupied, there should be some time for indulging in a spot of adult time – including a trip to the fabulous spa or perhaps a some scuba diving at the resort's diving school.  Then there's an extensive list of water sports and activities, both for the day and night. There is also a great selection of restaurants and bars catering for family meals through to sophisticated dinners.
The Princess Yaiza effortlessly strikes the balance between luxury beach hotel and family friendly activity paradise.   Situated in the former fishing village of Playa Blanca on the southern tip of Lanzarote, this hotel caters for babies right the way up to teenagers.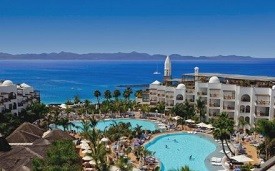 For the kids:  The Princess Yaiza has a 10,000 square metre area called 'Kikoland' entirely dedicated to children.  Featuring children's pools, sports facilities, football and tennis training camps and four different playhouses designed for all age ranges, with cots and toys in the Cooky club right through to Playstations in the teenagers' Gremlin Club, it is sure to tick all the boxes as far as your kids are concerned.  (Children aged 0-2 years do need to be supervised by an adult though.)  In the evenings, the children will love the mini disco and staged entertainment – although if you're looking for a bit of adult time in the evenings, they can go along to the Kiko bedtime club or use the babysitting service.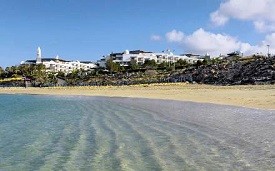 For the parents: With the children safely entertained, adults can indulge in a bit of 'me time' in the hotel's Thalasso Centre or perhaps get competitive in the multi-sport area which includes soccer pitch, tennis courts, paddle beach volley ball and french boules.  You may prefer relaxing in one of the hotel's pools or jacuzzis or taking a stroll along the sandy beach (which is literally on the hotel's doorstep with great views across to Fuerteventura.)  There is a great selection of food to choose from with eight restaurants on site including Japanese, local Canarian food and Italian cuisine but if you fancy getting out of the resort, Playa Blanca with all its restaurants and bars is only a short stroll away.