It's true, Italians take eating very seriously and you've never truly had this nation's cuisine until you have had the real deal.
One of the most incredible things about Italian food is the fact that it varies all over the country, with some cities and regions having special dishes that are prepared quite unlike anywhere else. On top of that, the food in general is just delicious so you won't go far wrong.
Based on our , we've put together a few suggestions about what to eat in these wonderful places and where you might like to try it.
This article may induce involuntary salivation throughout. You have been warned.
Venice
Just as your heart would have to be made of stone for you not to fall in love with Venice on first sight, your stomach would need to be lined with lead for you to not enjoy the wonderful cuisine of this city.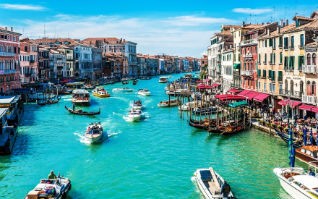 As you might expect, what with Venice being surrounded by water, fish is a major part of the diet in this part of Italy. Baccala' Mantecato is without question one of the tastiest and most popular entrees – it's simple and delicious, a Venetian classic. Basically, this little dish comprises of the freshest Atlantic cod which is then soaked and poached until the flesh is unbelievably delicate. It is then whipped into a fine mousse and spread on a grilled baguette or sometimes polenta.
To sample this delectable treat, we recommend Ca' D'Oro (Alla Vedova) in Cannaregio. Sample a range of delicious cicchetti while washing down with a fine Italian wine (ask the bar to recommend the best one to accompany your meal, they might seem a bit sour-faced but they will oblige).
We recommend you indulge in a little drinking as well, something that is actually relatively cheap in Venice. Fondamenta degli Ormesini is lined with wonderful little bars where you can sample the local drink, Prosecco – sounds like hard work, we know.
Florence
The next stop on your culinary adventure will take you to Tuscany, a region famed for its green, rolling landscape. Tuscan capital Florence is another treat on the eyes, with its combination of ornate architecture and rugged surrounding countryside, it is again difficult not to fall in love on first sight.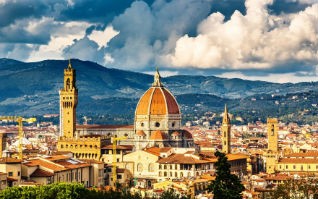 The food, is of course, remarkable here too. Florence's rural location is reflected in its fare which is simple and hearty but still sumptuous.
To start, we recommend the brilliantly-named Pinzimonio. There's nothing fancy about this dish, it is essentially, young, fresh vegetables and olive oil, and it's the latter that makes it. From the hills of Tuscany, you can expect the most incredible of olive oils in which you will dip carrot, peppers, cucumber and anything else in season during the time of your visit.
For a main, it's hard to look past Beef Steak Florentine, when in Florence. Another simple dish, beef steak comprises of a succulent cut of high quality meat, drizzled in lemon juice and cooked over a red-hot grill. Antica Trattoria "da Tito" dal 1913 on Via S.Gallo comes highly rated and there is a wide range of Italian foods other than the succulent steak.
If you are veggie, do not worry, there is the delightful Panzanella to fill you up. While a bread salad might not sound too wonderful, it's actually very tasty. Fresh vegetables topped of with crunchy country bread, washed down with a light red.
Of course, you also need to a glass of Chianti which comes from the region. Head down to Harry's Bar on Lungarno Amerigo Vespucci for a wide selection of this tasty red – it goes well with liver and fava beans, apparently.
Rome
After plenty of eating and drinking, you will finish your stay in Rome, one of the most remarkable places on earth. One hundred features couldn't do the Eternal City full justice, so we'll just focus on the food in this one.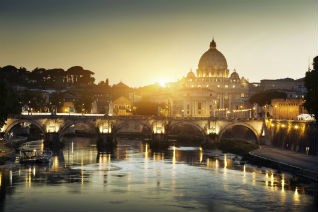 Being a capital city, you can find pretty much any type of cuisine here, but you're in Italy, so why bother with anything else? There are hundreds of quaint little trattorias and pizzerias to explore as well as the more upmarket restaurants that offer the region's classic dishes with a contemporary twist.
If you try nothing else here, make sure you sample one of the many pasta dishes on offer – it's one of the cornerstones of Roman cuisine. Dishes amatriciana and carbonara are simple, but highly recommended in the capital, the first comprising of guanciale (cured pork cheek), tomato and pecorino cheese, and the second bacon, eggs, Parmigiano-Reggiano and black pepper – both are classics of Rome.
For traditional Roman fare with excellent service Fortunato al Pantheon on Via del Pantheon while La Tavernacci on Via Giovanni di Castel Bolognese offers delicious food in a rustic environment.