Stretching elegantly from the cultural hub of Melbourne in the south all the way up to tropical Port Douglas in the north, this incredible part of the country boasts everything from pristine beaches and wicked surf to top-end restaurants and natural phenomena.
Due to Australia's massive size, it takes at least three months to explore the whole coast, so if you are planning a shorter , you'll need to be a little more picky with your itinerary.
Here are some of the best bits you do not want to miss when visiting Australia's breathtaking east coast.
1. Sydney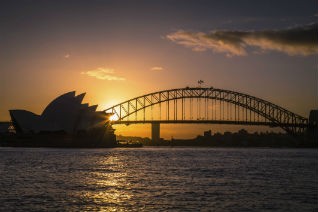 Although Melbourne is an incredible city in its own right, no trip to Australia should overlook , and, with time in mind, we've opted for the capital of New South Wales here.
Sydney swells outward from its CBD (Central Business District), surrounded by incredible suburbs that boast everything from stunning beaches to alternative culture.
The Sydney Opera House is, of course, one of the most iconic sights in the city, and should find its way onto any itinerary. The best way to approach it is from Mrs Macquarie's Chair in the Botanical Gardens. From here, you can see the Opera House backed perfectly by Sydney Harbour Bridge – the ideal picture moment! To get a closer look, walk around the Farm Cove path which will take you right up to the building itself.
On the other side of Sydney Cove, you will find The Rocks, a trendy part of town that is home to a number of top restaurants and bars. From the harbour, you can take the ferry to Manly, which has some of the finest beaches in the city.
2. Byron Bay
Byron Bay often comes top of the traveller's to-do list on the east coast, and when you arrive,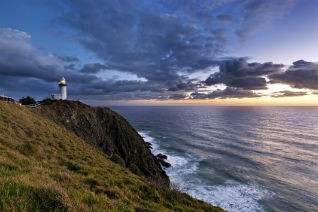 you will see why!
It's a unique contrast of the Australian surfer spirit and hippie culture, which is why the Bay is so alluring to many. When you are not lazing on one of the gorgeous beaches here, you can spend your time browsing the many alternative markets or attempting to catch a wave out on the surf.
With such reliable surf, this is one of the best places in the country to try your hand at the sport. Main Beach is filled with surf instructors and schools who will allow you to go at your own pace – a great activity for people of all ages.
This relaxed, beach-bum inspired town is a far cry from Sydney and even though it gets incredibly busy, it still manages to maintain its laid-back vibe. Whether you are kayaking with dolphins, strolling through the farmers' markets or exploring the Cape Byron State Conservation Park, you are sure to come away from this place channelling your inner hippie.
3. Fraser Island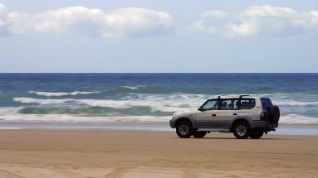 Further up the coast, you'll find the interesting proposition that is Fraser Island. The world's largest sand island is a place of real beauty and is best explored via 4×4. Hervey Bay's stunning scenery is something not to be missed, and the island is full of lakes, beaches, rainforest and land formations to explore – it's a natural adventure playground.
It's well worth staying overnight on the island, but if you are short on time a day trip will also suffice.
4. The Whitsunday Islands
Real, unspoilt beauty is becoming harder and harder to come by nowadays, but the have managed to keep theirs intact despite becoming such a popular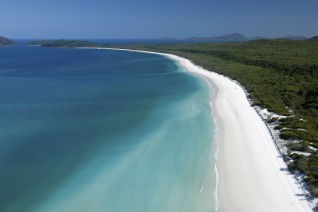 tourist attraction.
Queensland's crown jewel is made up of 74 islands of varying size and shape, all located in the heart of the Great Barrier Reef. As such, the opportunities for diving and snorkelling around the Whitsundays are some of the best in Oz. For stunning sands, look no further than Whitehaven Beach. A consistent entry on many "best beaches in the world" lists, this picturesque expanse of coastline looks too perfect to be true.
If you are after a little pampering, Hamilton Island is renowned for its incredible resort and spa facilities. Alternatively, Daydream Island Resort and Long Island Resort offer a similar luxurious option.
The best way to explore the islands fully is to spend the weekend living on board one of the many boats in the region. You'll get more time to see the intimacies of the islands up close and really appreciate their stunning allure. Again, if time is an issue, you can make a day trip so as not to miss out.
5. Port Douglas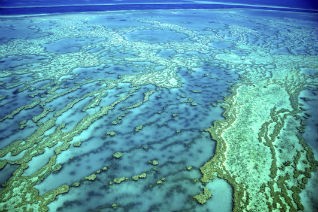 An hour's drive from Cairns, you'll find the much quieter, prettier town of Port Douglas. As well as being filled with plenty of up-market hotels, this tropical area is one of the best places in Australia to see the Great Barrier Reef in all its unrivalled glory.
From the Port's harbour, you can easily take one of the many day trip vessels out onto the reef. Many boats provide a full lunch option as well as an educational talk about the reef.
You can choose to scuba dive with a trained instructor or snorkel the area at your own leisure. Usually, there are three stops at different parts of the reef, which allows you to see a wider section of the coral. Whether you dive or snorkel, as soon as you get in the water you will be blown away by what you see.
Under the water's surface a kaleidoscope of colours await, from the schools of exotic fish to the reef itself – there's so much going on, it's hard to know where to look. The wildlife is perhaps the most impressive part of the reef, as thousands of species flock to it for life. Prepare to see fish of all sizes, octopus and all manner of creatures of the deep – you might even catch a glimpse of the odd shark!
After driving back down to Cairns, you can fly from here to Sydney and embark on your journey home – you'll need the long flight just to comprehend to amazing things you've witnessed during your time on Australia's east coast.