This can, however, make it rather difficult to decide what you need to try while you're in the city and where to go to get the best possible experience of each dish. To help you on your way, we've come up with a selection of the top restaurants, cafes, delis and street stalls to visit for a quintessential taste of the Big Apple.
Nathan's Famous
For: hotdogs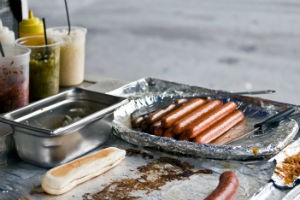 There isn't much that screams New York food like picking up a hotdog smothered in mustard or ketchup (or both). There are countless street-side vendors where you can grab one to go, but for a slice of US history as well as a tasty snack, head to a Nathan's Famous outlet. These are dotted all over New York, as well as around the rest of the country, but it all started on a much smaller scale in Coney Island.
Polish immigrant Nathan Handwerker set up a small hotdog stand in 1916, selling sausages based on a recipe created by his wife. Their fame steadily grew, with Al Capone, Cary Grant and Jimmy Durante among the people who ate here. Nathan's place in history was sealed when President Roosevelt served his hotdogs to the King and Queen of England on a state visit in 1939.
Junior's Cheesecake
For: New York-style cheesecake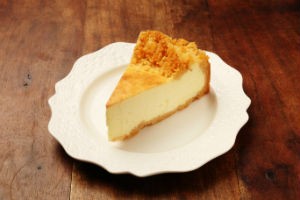 Given that the city has a type of cheesecake named after it, you can't really visit the Big Apple and not try a slice of this absolute classic. Junior's has been serving up its version of this tasty dessert since 1950, using the same recipe for three generations.
If you'd like something a bit more fancy than the NY cheesecake, there's plenty on the menu, including strawberry, apple crumb, raspberry swirl and chocolate swirl varieties.
Sweet Chick
For: fried chicken and waffles
This does sound like a rather odd combination to most Brits, but fried chicken and waffles is one of the quintessential southern USA meals that it's well worth sampling on a trip to the States. New York, naturally, has its own chicken and waffle restaurants, of which Sweet Chick is one of the best.
You have a choice of waffles – including bacon and cheddar, rosemary and mushroom and the interesting dried cherry or spiced pecan – topped with fried chicken. There are veggie options on offer, as well as a host of other dishes such as a beer-brined pork chop, market fish and vegetarian meatloaf.
Lombardi's
For: pizza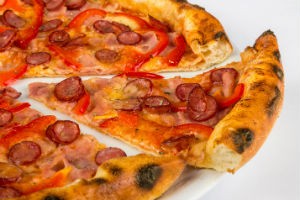 Lombardi's is credited with being the first place in New York to start serving this traditional Italian snack food, which has gone on to become a staple in NYC. It all began as far back as 1897, when Italian immigrant Gennaro Lombardi opened his pizzeria, serving up his own take on the classic Neapolitan dish and the rest, as they say, is history.
There are, as you'd imagine, plenty of toppings to choose from, whether you're going to grab a slice or devour a whole pizza. Homemade meatballs and pepperoni are two of the favourites here though.
Murray's Bagels
For: bagels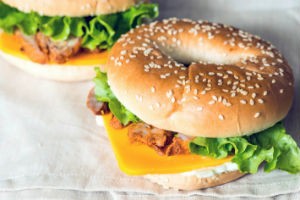 The name says it all really, but you probably haven't had a bagel until you've tried one of the New York variety. These deliciously doughy rounds can be filled with all manner of exciting ingredients and, if they're truly fresh, they shouldn't need to be toasted.
Murray's offers a staggering array of choice of not only fillings, but also the bagels themselves. Cream cheese is the default spread for many New Yorkers, which can then be topped with all kinds of meats, fish or gourmet cheese.
Chop Stix
For: General Tso's chicken
You may not have heard of General Tso's chicken before, but it's a dish that appears on the menu of almost every Chinese restaurant and takeaway in New York. This tasty meal is the dark meat of the chicken, battered and deep-fried, served in a rich, sweet hoisin and garlic sauce.
This dish really took off in New York in the 1970s and has been a favourite among locals ever since. Chop Stix was named as one of the best places in the city to try the dish by the New York Daily News last year, with the sauce created by chef George Wong described as the "most impressive" part of the meal here.
Embark on a foodie adventure to New York with one of our .