There's so much to do and see in the cosmopolitan city of Singapore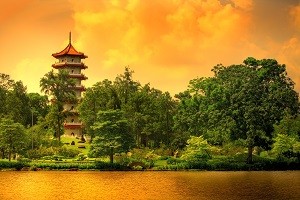 It's worth knowing that alongside eating, shopping is considered the national pastime, so allow plenty of time for some serious retail indulgence!  The glitzy shopping centres along Orchard Road are a must-visit, the glitzy mega centres offer floor after floor of designer-wear on a scale that is simply mind-blowing. Unlike Europe, shopping hours usually start from late morning and go on till 9.30 or 10pm.  There are also good markets in Chinatown , Arab Street and Little India which are great for mementos and knick knacks and give you a glimpse into old-style Singapore.
When you've satisfied your retail fix take the cable car from Mount Faber on the mainland to the man-made Sentosa Island for fantastic views of the city.  By night you can also book a cable car for a fine-dining meal to enjoy as it loops to and fro.
Don't miss Gardens by the Bay, the incredible 'City in a garden' has several different zones for you to explore.  The Flower Dome with its flora from around the world is housed in the World's largest glass greenhouse.  The Cloud Forest Garden is veiled in mist and has mountain views and there is also a 22m-high walkway that offers fantastic views over all of the gardens as well as beyond over the Marina Bay area.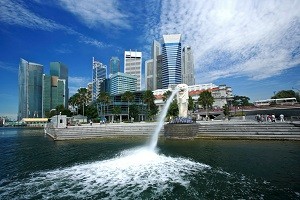 Whilst in Singapore indulge in mouth-watering cuisine, the perfect place to start is Chinatown with its local stalls and hip cafes.  Try the Market and Food Centre as well as Food Street for open-air eating spots serving sensational seafood as well as classics like chicken rice, fried oyster omelette and laksa.
Brunch at the Fullerton Bay Hotel is well worth it at the weekend, as is a cocktail on its' rooftop bar overlooking the infinity pool and Marina Bay (if you're staying here you can soak up the sun on one of the sun loungers that are actually in the pool's shallows!)
Of course, you can't come to Singapore and not take tea, or sip a Singapore Sling at the quintessentially Colonial establishment of Raffles.  The iconic hotel is an elegant contrast to its modern skyskraper neighbours, exuding an old-style romance.
For a total contrast, leave the city behind and head to Borneo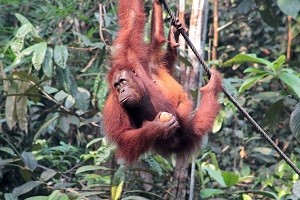 Borneo is the ultimate wildlife adventure.  Borneo is perhaps most famous for being one of just two places in the world where Orangutans still live in the wild and it is also home to one of the oldest rainforests in the world.  For the best chance to spot the majestic creatures, visit one of the rehabilitation centres where they live in a semi-wild state and are well looked after.  Borneo is also home to the endangered Pygmy Elephant and Proboscis Monkey and, with many areas of primary jungle still unexplored, new species of wildlife are discovered every year!
The lush landscape also lends itself to exciting adventures; you can cruise through the jungle along the Kinabatangan River listening to the host of exotic birds and chatter of monkeys.  You can hike within the Tanjung Datu National Park and see nesting turtles or if you are really up for a challenge, trek up to the summit of Mount Kinabalu which will reward you spectacular views across valleys and misty mountain peaks.  Borneo will undoubtedly be a trip of a lifetime.
Then on to Penang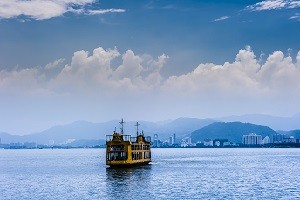 If you crave some beach relaxation then this itinerary also delivers in spades.  Head to Penang and you can be as active or inactive as you like.  With ample opportunity for languishing poolside or on the beach, there are also plenty of water or nature activities to get involved in should you wish. The island of Penang was the first British settlement in Malaysia and along with fantastic beaches its' capital, Georgetown is worth visiting with its beautifully restored colonial buildings.
Next up is Langkawi
An archetypical tropical paradise with 99 jungle covered islands fringed by clear waters and pristine beaches.   Get just a little way off the main beaches and this is still idyllic rural Malaysia with traditional kampung (villages) and a laid-back vibe.  Although rural and very traditional, there are also plenty of seafood restaurants, beach bars and spas to complete your paradise dream.  If you can drag yourself away from your sun-lounger then the Crocodile Farm is worth a visit and a trip on a Sunset cruise is magical.  It's worth knowing that it drops dark very quickly so be ready with those tropical sundowners – also look out for beautiful silvery crabs that scuttle across the sand on your moonlit walks.
Finishing your trip in Kuala Lumpur
Kuala Lumpur (KL) is Malaysia's capital, Take time to explore the relaxed city with its night markets and skyscrapers.  Petaling Street is the Chinatown of KL which is always bustling day and night.  Renowned for its imitation goods, this is the place for bargain shopping – and of course Malaysia's famous street food.  Look out for the delicious fresh lime juice spiked with sugar syrup to quench your thirst – and also Roti Prat, the crispy fried pancakes dipped into curries are out of this world!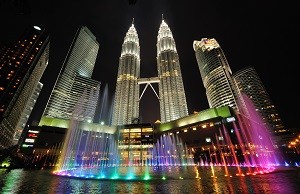 For a bird's eye view of the city head to the Petronas Twin Towers (open Tuesday –Sunday).  Buy tickets in advance and whiz up in the elevator to the Skybridge that connects the two towers then ascend even higher for a spectacular view from Level 86.
Another must-see destination in KL is the giant limestone Batu Caves that have attracted pilgrims for over a hundred years.  Just outside the city, the site has three main caves and is home to a Hindu temple and Shrine.  Once you've seen the caves and the large statue of the Hindu God at the entrance, climb the 272 steep steps for another view across the city – stunning!
It isn't just Malaysia and Singapore that we can offer, we have itineraries that can link up some of the best places in Asia. For further inspiration take a look at our Page.