History and tourism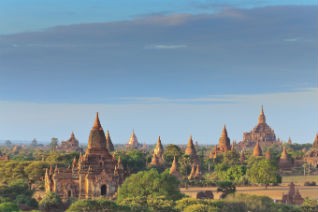 Since the military coup of 1988 in the country, foreign visitors have been staying away from the military junta-led country of Myanmar in protest at the way the regime treated its own people. This was matched by the government's unwillingness to welcome foreigners.
In recent years, all that has changed and the release from house arrest of opposition leader Aung San Suu Kyi has gone a long way towards this. Now, she, the country and other powers are encouraging foreigners to visit Myanmar and bring the tourism that it needs.
The fact that Myanmar has been mainly cut off from the rest of the world for decades gives it a unique appeal for holidaymakers. It represents a chance to see a part of Southeast Asia that is suspended in time and not influenced by the tourists that visit in the same way that some of its neighbours are. The lure of Myanmar is therefore the promise of a glimpse of the 'real Southeast Asia'.
Temples
Among the biggest draws of a trip to Myanmar are its many temples. The most impressive site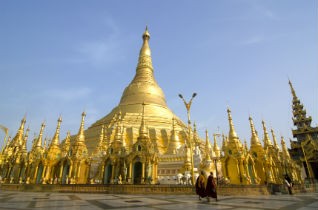 in this regard is Bagan, as this vast plain is home to more than 4,000 temples. They were built over a number of centuries and all exhibit very different styles. While it is impossible to visit them all, it is worth venturing inside to see the interior of a few, but standing and watching the sun rise or set behind the stupas is an incredible moment to treasure.
Other noteworthy temples include the Shwedagon Pagoda, which towers over the city of Yangon, the gravity-defying Golden Rock Pagoda, precariously balanced on Mount Kyaiktiyo, or the Mount Popa, where 37 spirits are worshipped.
Inle Lake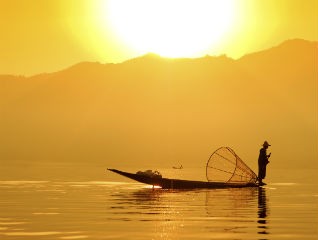 The highland body of water known as Inle Lake is a fascinating place to visit. It stretches for 22 kilometres in length and ten kilometres across, with many communities living on its banks. One of the most famous features of the lake is those who head out in traditional boats, using a form of leg rowing that has been passed down for generations.
The Mergui archipelago
Myanmar's beaches and islands barely seem to get mentioned among the reasons to visit the country, but they certainly should not be missed out. One place where they certainly come into their own is on the Mergui archipelago. This clutch of islands includes more than 800 landmasses and is home to numerous deserted beaches, as well as diverse flora and fauna. The only permanent human inhabitants are the Salon Sea gypsies.
Cuisine
The cuisine of Myanmar is highly influenced by that of Thailand, China and India, but has taken on a distinctive character of its own. Expect plenty of seafood and fresh fruit and vegetables, with rice noodles and chillies national staples. Visitors are bound to return home enthusing about the myriad dishes they tried in Myanmar.
Part of a multi-centre holiday
Anyone keen to include Myanmar on an itinerary that takes in more of the region will find this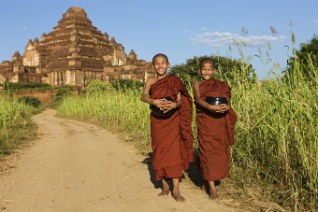 fairly easy to organise. While the nation shares land borders with India, China, Thailand and Laos, it is also within easy reach of Malaysia, Cambodia and Vietnam if flying is a possibility.
Combining a number of destinations including Myanmar offers a unique opportunity to compare and contrast the country with others in the region. The likes of Vietnam and Thailand show what may lie ahead for Myanmar in the future.