This trip includes an 11 day stay in the city, with most people opting to take in the calmer resort of Waikiki for the duration of their time in Hawaii. While this part of the city is undoubtedly a great place to base yourself, with almost a fortnight to play with you will want to explore the many other sides of Honolulu.
Here are just a few things you can get up to during your stay in Hawaii's colourful capital city.
Simply stunning views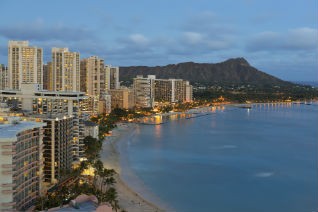 Hawaii is known for its scenic beauty, and there are a number of lookout points around Honolulu that showcase this brilliantly. The hills above Makiki are the ideal distance from the city and they still offer some of the best vistas you are likely to see on the island. The two best points here are Punchbowl crater and Pu'u Ualaka'a Park.
Other fantastic options include the stunning Diamond Head and Nu'uanu Pali Lookout, both of which take a little more effort to get to. The first is a magnificent place to take in the views of the city, while the second is around six miles out of the city, but it offers sensational panoramic views of the island due to its high clifftop perch.
Eat as the locals do
You simply have to try Hawaiian food when you visit this city. The combination of ancient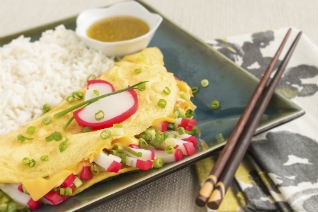 Polynesian cooking methods and the fresh ingredients that are found on O'ahu have created a cuisine that is completely unique and Honolulu is one of  the best places to sample it.
Kapahulu Ave in Waikiki is known for its great places to eat, and if you are staying in this part of the city anyway, you have no excuse not to head down and get stuck into some hearty Hawaiian grub.
Lonely Planet recommends the Kapi'olani Community College car park on Saturday mornings for a taste of Hawaii and the chance to experience an authentic farmers' market. As well as being the place where the city's top chefs get their ingredients, you can expect a number of delicious food stalls.
Honolulu Museum of Art
Art plays a big part in Hawaiian culture and this fantastic museum is testament to how seriously the islanders take it. Specialising in fine art, the museum has stood in place since 1927 and is a definite must-see on your visit to the city.
The museum itself is pleasing on the eye, but it's the vast array of exhibitions within that are really impressive. The overarching theme is the many different cultures that have influenced modern Hawaii, so you can expect Asian art from Japan and China, carvings from Cambodia and India as well as modern art from well-known artists like Matisse.
There's also a wonderful collection of  Polynesian and Pacific artefacts, such as weapons, body decorations and ceremonial masks.
Cut loose the Pacific way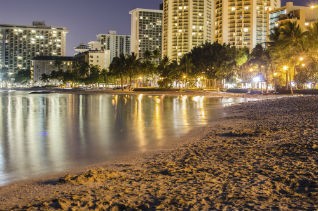 Honolulu is known for its varied and often wild nightlife – nowhere else on the island really comes close in this respect.
Kuhio Avenue in Waikiki us one of the busiest and most popular places to go for a night out, with many bars and clubs condensed into one area. There's something for all price ranges here, from budget bars like Angles, with its many drink offers, to more upmarket drinking establishments.
The Chinatown district is quickly gaining notoriety as one of the hipper, edgier places to head out in the city with its combination of dive bars and newer offerings. Bar 35 is a beer lover's dream with 150 brews to choose from whereas Manifest is quickly asserting itself as one of the hottest venues in the district.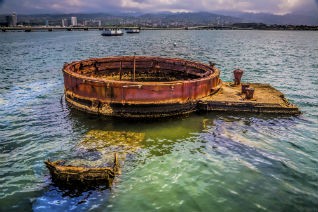 USS Arizona Memorial
It was the event that spurred the US into WWII. Pearl Harbour changed the course of history as we know it and you can visit the resting place of the hundreds of people that  lost their lives at the hands of a Japanese surprise attack in Honolulu.
The USS Arizona Memorial is one of the more sombre attractions in Hawaii, but given its significance, it is a must-see for any history buff.