Utah, for instance, is home to some spectacular protected areas and, as many of these are reasonably close to the border with Arizona (where you'll find the Grand Canyon), it's not too difficult to incorporate a trip to visit one or two into your journey.
So, we thought we'd give you a preview of some of Utah's wonderful national parks and hopefully inspire you to visit at least one on your next holiday stateside.
Bryce Canyon
Driving time from Grand Canyon National Park: around three hours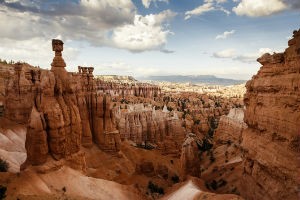 A three-hour drive to the north of the Grand Canyon is Bryce Canyon National Park, a place with landscapes that, quite frankly, have to be seen to be believed. As in Arizona, the rock is vibrant hues of red and orange, with dramatic shadows cutting between the chasms and pillars that the area is made up of.
Where the Grand Canyon is breathtaking, Bryce Canyon is completely mind-blowing. It is, in fact, a series of natural amphitheatres that are filled with bizarre rock towers (known as Hoodoos), jagged ridges and vast canyon walls that work together to create a labyrinth of paths that lead through this strange maze.
It's named after early settler Ebenezer Bryce, who allegedly said "it's a hell of a place to lose a cow". As soon as you disappear along one of its many passages, flanked on either side by towering walls of red rock, you'll see why. The paths snake their way around the weird and wonderful rock formations, punctuated occasionally by odd trees that look somewhat out of place – it's easy to see why outlaws like Butch Cassidy favoured the area as a hiding place.
Hiking and horseback riding are the best ways to get around here. For a truly magical experience, camp among the towering pinnacles overnight and enjoy the dazzling stars in the sky above as you drift off to sleep.
Arches National Park
Driving time from Grand Canyon National Park: just over five hours
It's a bigger detour to get from the Grand Canyon to Arches National Park, but the scenery here is spectacular and well worth the effort. The characteristic red rock prevails, but what you'll find here is quite different and remarkable to what you'll have seen in Arizona.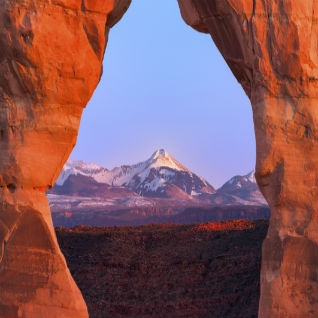 As its name suggests, the star attraction here is the arches – but did you know that this protected area is home to the greatest number of natural stone arches in the world? There are more than 2,000 for you to discover.
The bright red sandstone rocks, streaked with pale yellow bands, have been worn away by the elements over the years to create these apparently gravity-defying structures. Some are so perfectly formed that it's hard not to believe that humans have had a hand in creating them.
There are archways over canyons, as well as impressive free-standing arches, some atop cliffs that give you the chance to enjoy staggering views across this slice of American wilderness.
Delicate Arch is the most famous of the national park's landmarks, but there are also several pinnacles and towers that look as though someone has painstakingly balanced rock after rock on top of one another – the aptly-named Balanced Rock is a classic example.
Zion National Park
Driving time from Grand Canyon National Park: just over two hours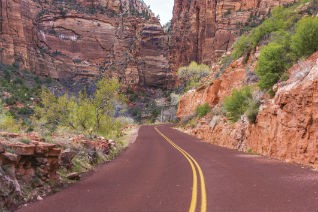 Zion National Park is located just over the border with Arizona and has the honour of being Utah's oldest national park. It was first given protected status all the way back in 1919 and is home to some absolutely spectacular hiking routes.
Among the most famous of these is the Zion Narrows, which follows the course of the Virgin River. The walls tower on either side and in many places you have to wade and even swim through the river itself to continue on your hike – it's a truly unique experience.
However, if you thought Zion was just about red rock formations and vast canyons, you'd be wrong and it's the diversity of the protected area that makes it such a delight to explore. There are verdant forests, mountain meadows, lowland deserts and incredible canyons all within its boundaries.