Patagonia is a place of incredible extremes. One day, you may find yourself cycling through lush green forests surrounded by vast, blue lakes, the next, you could be stood on an arid beach waiting patiently for a chance to catch a glimpse of feeding orcas.
The sheer size of the region, which straddles both  and , is astounding but it's the national parks and natural wonders within it that make this part of South America truly remarkable.
If you are planning a trip to either of these countries, you must visit Patagonia. Even if you only have time to explore one of the parks here, we guarantee you will leave with a lasting impression of this prepossessing place.
To get you started, here are just some of the extraordinary parks you can visit in Patagonia.
Torres Del Paine, Chile
The scenery in this park is nothing short of staggering. From afar, the concentrated mountains of Torres Del Paine resemble that of a mystical fortress, presiding over the surrounding terrain.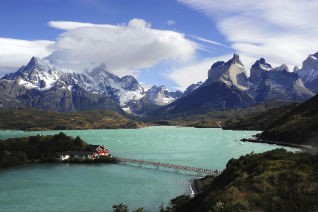 The area is home to some of the best hiking in all of Patagonia, with the popular W Trek and Paine Circuit attracting trekkers from all over the world on a regular basis. The road and track infrastructure here means that you can take your pick of the walks, which range from the less strenuous to the more intense.
If you are into your hiking, this park is the place for you. At almost every turn you will be confronted with breath-taking vistas and jaw-dropping land formations. Particular highlights include the Cuernos del Paine (Paine Horns), two magnificent granite monoliths, and the Glacier Grey.
There's also lush, dense forests, sparkling blue lakes and the chance to see some of region's native fauna (guanaco and condors) in the wild.
Los Glaciares National Park, Argentina
The name of this park gives away its biggest draw – that's right, glaciers! Los Glaciares National Park is full of them with Perito Moreno being the biggest and most impressive.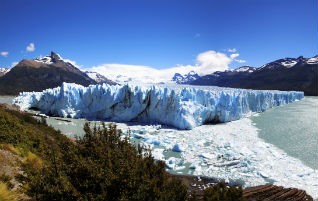 At five kilometres long and a colossal 60 meters high, this ice structure is a sight to behold, and there are a number of ways you can see it in all its magnificent glory. A wooden walkway has been constructed on the hills facing the glacier so you can walk along its front, taking in its scale from a distance. Every so often, parts of the ice will fall off followed by an all mighty crack – if you don't see it, you'll definitely hear it.
To get closer still, there are ferry tours that take you within a safe viewing distance of the glacier. From water level it looks even more imposing and the falling lumps of car-sized ice are more impressive, if not a little terrifying.
Finally, for an experience to truly remember, you can book an excursion trek onto the ice. In organised groups, you can traverse the frozen terrain – it's quite otherworldly. A quieter option is to hike on Viedma Glacier, a less touristy but still beautiful ice structure.
The closest nearby towns include El Calafate and El Chalten.
Península de Valdés, Puerto Madryn
At the very top of the Argentine Patagonia, you will find the remote coastal town of Puerto Madryn. Aesthetically, this area pales somewhat in comparison to the region's southern parks but there is one very good reason to visit this town; orca.
The Peninsula de Valdés parkland and its arid beaches is home to massive communities of sea lions, penguins and elephant seals, which makes it the perfect hunting ground for the imperious killer whale.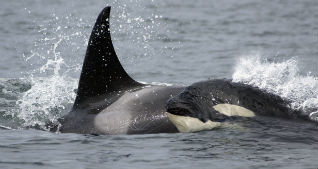 Pods of these amazing creatures stalk the waters around Puerto Madryn in order to catch the many sea lions that live here. And it's their hunting technique that makes them so visible. Orcas are known to temporarily beach themselves in order to catch their prey on land where they are safest. They then use the tide to slide back into the ocean. There are no words to describe seeing this happen, if you are lucky enough to witness it, you will never forget it.
You can arrange guided tours around the park that stop in the best spots for spotting whales. The whales' feeding habits are documented each day, so make sure you ask your hotel to call ahead and find out the orcas' activity over the past few days.
There are also boat excursions that allow you to see dolphins and southern right whales. For orcas, the best time to go is January to April and October to December, for other whales, try May to December (October has the highest concentration).
The cheapest and most convenient way to travel this region is by bus. However, great distances between some of the parks can mean these journeys have to be taken overnight. Some of the areas mentioned above do have airports and so air travel is also a possibility.
If you would like to arrange a trip to this remarkable part of the world, get in touch with our South America experts and we'll do our best to create an itinerary that suits your needs.
Image credit: Thinkstock.