The Everglades themselves span for miles and take up a large portion of southern Florida and are the ideal destination for anyone with a sense of adventure.
Taking in this part of the US is a must for those who find themselves in , here are some of the highlights that the national park has to offer.
Watch out for wildlife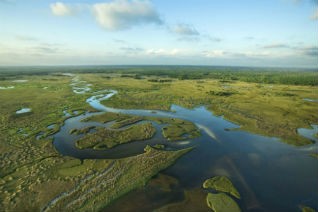 The American alligator, manatee, Florida panther and crocodile are just some of the diverse species that reside in the lush wetlands of the Everglades. There's also an abundance of different birds including pelicans, wading birds, eagles and egrets, all filing the airspace above the national park.
Whatever you do while you're in the Everglades, there's a good chance it will involve some form of amazing fauna and flora.
Shark Valley
If you enjoy a good hike and stunning panoramic views then the Shark Valley is a great place to explore. Located on the Tamiami Trail, the Valley offers visitors the chance to take in a 15-mile loop walk that leads to an observation tower in the heart of the park.
From here Everglade-revelers can take in the best views of the area and hopefully spot some of the fantastic wildlife.
Explore the Biscayne Bay
An area of intense beauty, the waters of the Biscayne Bay offer a kaleidoscope of colour, full of spectacular coral and vividly decorated fish. There's the opportunity to swim, kayak, snorkel and fish in the pristine waters as well as more relaxing activities such as lounging on the beach or taking a glass-bottomed boat tour.
Anhinga Trail
Billed as one of the best places in the park to spot alligators, the Anhinga Trail is a must for those out to catch a glimpse of the toothy predators in the wild.
The walk is less than a mile making it accessible to people of all fitness levels. Starting from the Royal Palm Visitor Center, you can take the tour on your own and wind through the wild sawgrass marsh until you return to the beginning.
Visit the Everglades with our .