The city's heritage as an international centre of trade has led to a shopping culture like no other.   There are shops selling everything you can think of, and more.  As in much of China, similar goods are often sold together so there are whole roads or districts dedicated to specific goods – from Chinese medicines to electrical goods.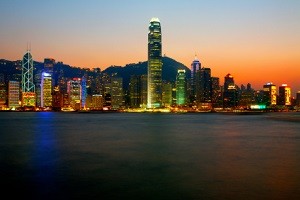 There are specific markets selling fish, meat, jade and clothes as well as huge shopping malls for every budget.  Although the markets get very busy and can be smelly in the heat, they offer a fascinating glimpse into the real Hong Kong.   Visit the lively Night market on Temple Street as it has a great atmosphere.  You can wonder along taking in the smells and tastes from the open air street stalls on Woo Sung Street, as well as shop for cheap clothes, watches, fake labels and everyday items, but remember to barter – marked prices are merely suggestions, so grab yourself some bargains.  The market officially opens in the afternoon, but it is at its best from about 7pm to 10pm, when it's clogged with stalls and people.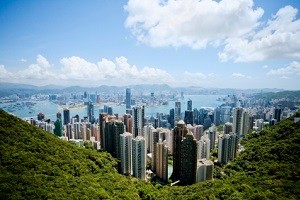 The Ladies market on Mong Kok street sells the latest clothes being made in the Chinese factories, and you can find some amazing bargains –  beware of the sizing which is often way smaller than Western equivalents. The food stalls here are also fantastic, there is so much variety, try the grilled octopus, deep-fried tofu or fish and beef balls.
When you've had enough of shopping there are lots of places to explore.  Stanley is a fun place to visit- it's like the Brighton of Hong Kong, there are lots of restaurants by the water's edge and more markets to browse around!
You can't say you've 'done' Hong Kong until you've taken a ride on a Star Ferry. Try to take your first trip on a clear night from Kowloon to Central for a really dramatic sunset cruise.  Although only 10 minutes long, it's great value for money as you can take in the incredible views of skyscrapers and jungle covered hills.
Make sure you get to see the view from the top of a skyscraper too – try the Sevva bar in the Landmark Princes building in Central.   The food is really expensive but it's worth going for a few evening cocktails and watching the light show over the city as the view is spectacular!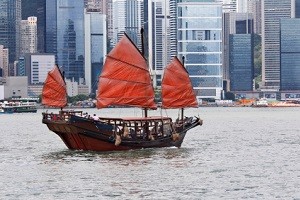 The other way to take in the city (if visibility is good!) is from the top of Victoria Peak, the highest point on Hong Kong Island. The Peak is also one of the most visited spots by tourists in Hong Kong, and it's not hard to see why.  Reachable in just eight minutes from Central, the 125-year-old Peak Tram rises almost vertically above the high-rises.  Once at the top you are rewarded with sweeping views of the vibrant metropolis, lush green mountains and easy but spectacular walks.
Take a boat trip over to Lamma island with its hidden beaches, villages and forests and enjoy a seafood lunch.  Or go to Lantau island and climb the steps up to see the Big Buddha statue, alternatively you can take a cable car but you'll need to go early to avoid the queues.
And when you've walked till you could drop head to one of the many Foot massage parlours – they are everywhere, look for the lit up feet signs. They are super cheap and just what you need after a long days walking around.
Taxis are also cheap in Hong Kong and they will take you anywhere. It's worth getting the taxi app on your phone as a lot of them can't speak English and you can show them the translation into Cantonese on your phone.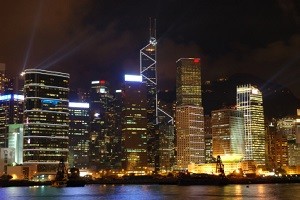 Sunday brunch is an institution in Hong Kong, you can find a restaurant serving every kind of brunch imaginable from eggs Benedict, to seafood and dim sum – find one that suits your tastes and budget – Zuma, in the Landmark includes free flowing Veuve Clicquot!
Hong Kong isn't somewhere you have to spend a fortune for fabulous Chinese food, with over 12,000 restaurants in the city it really is a gourmet's dream. The cafes and street stalls are the life-blood of this city – food here is about the quality and freshness so don't worry about the decor and service – just have fun exploring and trying delicious delicacies.
If Hong Kong sounds like somewhere you would like to visit, why not consider combining it with some other great destinations. Check out our for some ideas of what's possible.