Neuschwanstein, Germany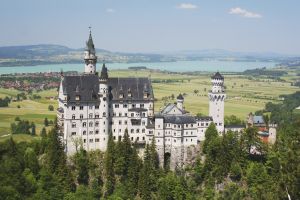 When you think of Sleeping Beauty and her domain, the chances are a vision close to Neuschwanstein in Bavaria will come to mind. This is no coincidence, as it was used as the inspiration for the castle at Disney's parks all over the world.
King Ludwig II of Bavaria had the castle made as homage to Richard Wagner and it was completed in 1886. Its location atop a hill gives its facade of steep walls and pointed turrets an even more dramatic feel.
Open to the public daily between the hours of 8am and 5pm, it is among the most visited attractions in Germany and certainly the most photographed.
Bran Castle, Romania

Whether you consider it fairytale or nightmare, it is impossible to deny that Bran Castle is an incredible and magical-appearing edifice. Despite never belonging to Vlad Tepes, the 1378 construction is often referred to as Dracula's Castle. The real-life inspiration for Bram Stoker's character was familiar with the place, however, as he was once locked in its dungeon for two days.
It occupies a space on a mountain pass between Transylvania and Wallachia and at one time was used as a customs post for those travelling between the regions. Seeing the imposing shape of the castle up in the mountains must have been quite an experience on dark nights or in winter.
Bran Castle is open most days from 9am to 6pm, but only grants access for half a day on Mondays, starting at 12 noon.
Chateau de Chillon, Switzerland

Located on an island in Lake Geneva and with the Alps as a stunning backdrop, Chateau de Chillon could not be in a more picturesque setting. Its origins begin the 12th century when it housed the counts of Savoy and underwent much expansion in the century that followed.
The castle has not always been one building, but consists of around 100 separate edifices that have been slowly incorporated over the years to create the labyrinthine whole that can be seen today.
Chateau de Chillon is open each day from 9am to 7pm and is a popular destination for those visiting Switzerland.
Alcazar of Segovia, Spain

The majority of the building that makes up the Alcazar of Segovia was constructed in the Middle Ages and its turrets and crenulations are fit for a princess. In fact, the monarchs of the Kingdom of Castile have found themselves living here over the years.
Originally an Arab fortress, the castle has functioned as many things across the centuries, ranging from a state prison to a military academy. It sits on a rocky promontory overlooking the confluence of the Eresma and Clamores rivers, giving it an important strategic position.
Visit the Alcazar of Segovia and dream of calling for a prince from one of the miniature turrets between 10am and 7pm any day of the week.
Muiderslot, The Netherlands

At the mouth of the River Vecht in The Netherlands is a castle that fills all the credentials any fairytale author would add. Muiderslot has towers, a moat and must be accessed via a bridge, making this medieval castle perfect for letting the imagination run riot.
Constructed in 1285 under the orders of Count Floris V, he would later curse its fortitude, as he himself was imprisoned in it by his own nobles. Learn about this and the rest of Muiderslot's colourful history by visiting in person.
Muiderslot Castle is open from 10am on weekdays and 12 noon at weekends, but closes every day at 5pm.
If you fancy visiting one or more of these mystical castles, why not add in a stop to your next . We can arrange for you to combine a visit to one of these destinations, along with a city break, beach stay or put together a more complex itinerary – anything is possible!