The Must Do List…
There are the obvious must-see attractions, namely the Doge's Palace and the ornate Basilica di San Marco both on Piazza San Marco.  With its gold-leafed mosaics and Byzantine Domes, the Duomo (Cathedral) appears very Eastern and is a reminder of Venice's trading past (Venice is infamous for its crowds of tourists so do get in early).  There is a roped-off 15 minute circuit that you can take around the Duomo – and remember, you should cover your shoulders and knees inside the building out of respect.
The neighbouring Gothic Doge's Palace has magnificent rooms and art which you could spend hours admiring.  If you want to get the most out of it in a short period of time you can pay a guide to take you round on a private tour so it's not overwhelming and they will tailor your tour to your interests and time. However, if you don't go inside, make sure you see the Bridge of Sighs from the outside – attached to the Palace, it was where the condemned stumbled along to the neighbouring prison and could catch their last glance of freedom.
Piazza San Marco might be incredibly touristy and price of coffees might be sky high but it is still worth sitting in the square and absorbing the beautiful buildings along with the hustle and bustle of Venetian life.
The Rialto Bridge is another must see – along with all the other tourists, but then try to get off the beaten track and enjoy wandering around.  It's easy to get lost but that's also part of the fun, weave your way through the city and you'll discover piazzas where the locals eat and drink, quiet alleys where you can peek into beautiful courtyards and breathtaking bridges offering crowd-free photo opportunities.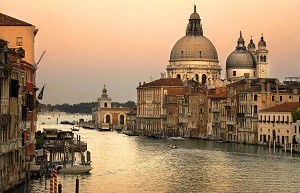 Make sure you're in comfortable shoes or trainers as you'll be on your feet all day walking over cobbles.  If you need to get somewhere quickly, jump on a water taxi – and for the ultimate romantic treat, take a gondola ride with a serenading gondolier!
The square of San Giovanni e Paolo to the north is lovely for an early evening drink beside the canal and full of Italian families enjoying the city when the day-trippers have left.  En route, it is definitely taking a look into the beautiful marble church of Santa Maria dei Miracle.
For a contrast to the abundance of historical art and architecture around the city, visit the Peggy Guggenheim Museum.  After losing her father on the Titanic, the heiress became one of the great collectors of the 20th century and her palatial canalside home, Palazzo Venier dei Leoni, showcases her substantial collection of surrealist, futurist and abstract expressionist art with works by up to 200 artists, including Jackson Pollock, Picasso and Salvador Dalí.
When it comes to dining…
As with all areas of Italy, Venice has its own regional cuisine which is based around the seasonal food and there is no-where better to experience this than the seven hundred year old bustling Rialto Market.  With mountains of baby octopus, soft-shell crabs, and inky squid this is the place that will whet your appetite for locally sourced seafood.  The produce stands are piled high with seasonal fruit and vegetables in a kaleidoscope of colours from the purple baby artichokes to the red radicchio trevisano (bitter chicory).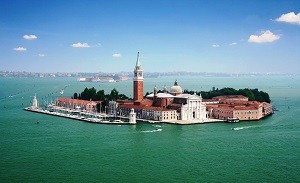 It is also worth getting away from the city for half a day and exploring the three famous islands in the Venetian Lagoon – Murano, Torcello and Burano.  On Murano you can see the famous glass-blowing factory and Torcello has Venice's first cathedral, the island feels wonderfully tranquil and remote.  Burano is famed for its multi-coloured fishermen's houses and fine lace.  It was apparently when the fishermen were out at sea, that the women of the island would pass their time making lace and hence the tradition has carried on.  Make sure if you want to buy some that you are actually getting the locally-made real deal, not the cheap imported lace from China!
There is so much to see in Venice that even a long weekend doesn't do it justice – but that's ok, leave something to see next time – because one trip is never enough!
Fancy a longer holiday exploring more of Italy?
If you do then check out our  full of great ideas of how to combine Venice with some other great cities.