The Florida Keys is a string of islands stretching in a gentle arch through the azure-blue waters at the southerly tip of the state. These isles are connected by an impressive series of bridges and causeways – Highway 1 – and are a brilliant choice if you're after a beach break with added opulence.
There are charming towns located across Key West, Marathon, Islamorada, Key Largo and Big Pine, giving you plenty of options for a base for your . There is a lot to say about each of these islands, but today we're going to focus on the best beaches in the Florida Keys.
Before we launch into a list of our favourite sandy spots, it is worth pointing out that the islands of the Florida Keys aren't all lined by white sandy shores, as many first-time visitors imagine. The coral reefs that protect the islands can, in many cases, prevent beaches from forming properly, while the subtropical environment means mangrove swamps are also prevalent along the coast.
So, with that in mind, it's even more important to know exactly where to go for the ultimate day of sun, sea and sand. Here are some top spots to visit.
Sombrero Beach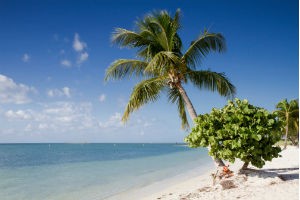 Sombrero Beach, which you'll find close to Marathon City, is one of the best in the Keys. It's a gentle crescent of white sand, with impossibly turquoise water lapping at its shoreline and rustling coconut palms lining the back of the beach.
There's a fenced-off beach park here too, complete with covered picnic areas, a playground and toilets. While there's no lifeguard service, it is safe to swim here and, in fact, the rocky sections of the seabed just offshore are brilliant for snorkelling.
Bahia Honda State Park Beaches

The Bahia Honda State Park – on the remote island of the same name – is home to the best beaches in the Florida Keys. There are three main beaches here – Sandspur, Calusa and Loggerhead. Sandspur is the largest of these and boasts a host of amenities, including freshwater showers, toilets and covered pavilions.
Calusa, meanwhile, is the smallest, but it has many of the same facilities of Sandspur. Finally there's Loggerhead, which is known for the sandbar that's located just a short distance offshore. The shallow water makes this a good choice for families with small children too.
There's also a rocky islet just off the coast that can be easily reached in a kayak – this is a great place for snorkelling if you feel like taking a dip.
Smathers Beach
Smathers Beach is the longest on Key West and a really beautiful spot for a day at the seaside. The sand here is gorgeous – but does have to be imported – and runs for just over a mile. It's a brilliant beach to come to if you're hoping to get active, as there are various water sports on offer here, including paddleboarding, windsurfing, kayaking and parasailing.
There are also plenty of amenities close by, with shops, cafes and food stalls all located just behind the boulevard that runs almost the entire length of the sand.
Zachary Taylor State Park Beach
The beach in the Zachary Taylor State Park, also in Key West, is a lovely place to come to for some fun in the sun and a relaxing day out. The wide strip of sand is a great location to relax in and work on your tan, while there are plenty of rocky outcrops just offshore that make brilliant snorkelling spots.
If you tire of the seaside, you can head slightly inland to discover the historic fort that's also part of the park – it makes for an interesting diversion.
Anne's Beach
Anne's Beach on Islamorada may be small but it's certainly popular, with this narrow strip of sand backed by mangroves providing a lovely place to stop for a few hours. Many travellers use it as a break on the long drive along the Overseas Highway, but there's enough here to capture your attention for the day if you want.
A boardwalk winds its way through the mangroves, giving you a good look at this fascinating habitat. Although the water at Anne's Beach is generally too shallow for swimming, it is a wonderful place to launch a kayak from and go in search of some of the birds that call the Florida Keys home.
Explore the Florida Keys and other parts of the US with our