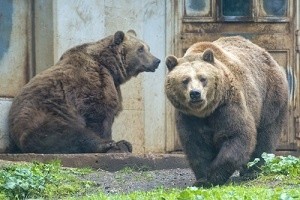 Canada's Grizzly bears, a quarter of Canada's Black bears and also the rare white Kermode (Spirit) bears making it the perfect place to see these huge creatures.
Both Whistler and Blackcomb mountains are home to more than 100 Black bears so sightings, particularly in the Spring, are common.   So keep your eyes open – you might be lucky enough to spot a bear next to the highway, or from your chair lift, bike trail or at the golf course – they particularly love the boggy areas by the golf course!  When driving through the more remote parts of Vancouver Island, there's a good chance of spotting a Black bear snuffling through grasses on the side of the road too! However, there are also incredible adventure trips that you can go on to increase your chances of seeing these wonderful animals in their natural habitat – and in safety!  On Vancouver Island head out on the water on a bear-watching tour from Clayoquot Sound or you might well spot them across the river from Port Alberni. Most bear-viewing tours use either elevated viewing platforms, where you can watch Grizzly bears pouncing on salmon, or boats drifting in the river so you can listen to the bears munching on the fresh grass near the water's edge. Tours, from half a day to several days, usually have very high bear-viewing success rates, often ranging from 90-100%.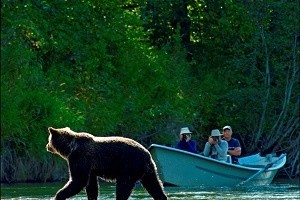 The Great Bear Rainforest is the best place to visit if you are serious about wildlife and spotting bears.  It is one of the most pristine wilderness environments on earth, a vast area of temperate rainforest stretching 400 km along the central and north coast of British Columbia.  It is the only place in the world where you can see the Kermode (Spirit) bear, a sub-species of Black bear noted for its white fur.  Its' incredible ecosystem exists as it did thousands of years ago and where the waters teem with whales, sea otters, dolphins and sea lions, the forests with bears and eagles and the rivers with salmon.
When to go Bear Watching in BC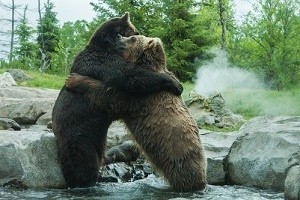 Bear-watching season is best in the Spring and the Autumn. In spring, bears emerge from hibernation and hungrily seek out fresh shoots and sedges along river banks and low-lying areas so boat tours are a great way to see them. In Autumn, spawning salmon are a feast for bears fattening up before hibernation. Bears (along with eagles and wolves) line the rivers and fish for their meals so viewing platforms are commonly used.
Types of Bears in BC
Grizzly Bears: There are an estimated 16,000 grizzlies living in BC, they are BC's largest bears weighing up to 78 stone!  Their reclusive nature means that they generally avoid populated areas and people, making sighting one a special occurrence.
Kermode (Spirit) Bears: A rare subspecies of black bear with white- or cream-coloured fur due to a genetic trait. Princess Royal Island, in the Great Bear Rainforest has the largest concentration of Spirit bears in the world.
Black Bears: BC's most common bear. Found across the province, except in the most urban areas. Contrary to their name, they're not always black. Brown, blonde, cinnamon and even white colour variations are possible.
Bear Safety

For the safety of humans and bears, always follow these strict but simple precautions from BC Parks and the Commercial Bear Viewing Association of BC:
You should always choose a bear-viewing operator that is respectful and protective of the bears and their needs.
Bears may approach humans for many reasons; most are not threatening reasons. During an uncomfortably close encounter, stay calm, don't move quickly, never run and listen to the wildlife viewing guide.
Never feed or approach a bear – even to get that perfect photo. Hungry or angry bears can attack without warning. Do not use flash photography around bears.
Vehicles should be well off the road when viewing or photographing wildlife.
Leave the pets at home or on a very tight lead to avoid attracting or angering bears.
Avoid human food conditioning of bears, food or beverages other than water should not be consumed near habitats that are frequented by bears.
If you want to get closer to these amazing creatures why not include them in one of our ?