But in between white-knuckle rides, fast cars and movie-themed fun, you'll want to take some serious R&R time and chill out – luckily, you're in the right place.
Florida is known for it's incredible beaches, and many of them are in and around Orlando. Our Miami multi-centre holiday is perfectly set up to allow you to take in as many or as few beaches as you'd like.
The best bet for reaching Orlando's different beaches is to rent a car and just drive there yourself.
Cocoa Beach – the convenient one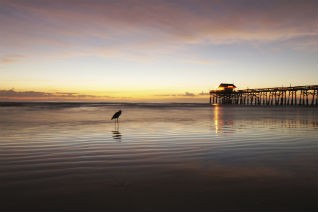 Just over an hour's drive away from Orlando, you will find the beautifully named Cocoa Beach. This expanse of sand is great for a number of reasons; firstly, it's close to the city, and secondly, it's got everything you need for a fantastic day out at the beach.
The area is very clean and safe – no glass, pets or driving is permitted – and while the beach itself is not the most impressive stretch of sand you're ever likely to see, its convenience makes it a very good option for families and couples.
If you don't want to pack a picnic for the beach, there are plenty of places to eat and drink in the surrounding area. Seafood is particularly popular here and given the location, you know you're in for something fresh.
Daytona Beach – the fun one
Daytona is around a 70-minute drive from Orlando, and if you haven't had your fill of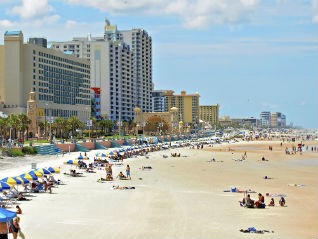 adventure, this is definitely the place for you.
As well as the 20-plus miles of sand you'll find stretching out from Daytona, this beach is full of activities that will keep even the most active of people busy.
Watersports here include parasailing, banana boat rides, jet ski and motor boat trips while the jetty is lined with thrill rides and restaurants.
If you are travelling with children, the Daytona Lagoon should be a must-visit stop on your itinerary also. Located close to the beach, this extensive water park is full of ridiculous slides, wave pools and other aquatic-themed adventures – as soon as you lay eyes on the incredibly fun Kraken's Conquest, you'll want to have a go yourself anyway!
The beach itself is patrolled by lifeguards, although you may want to check for tide alerts beforehand as some of the currents in the area can be quite strong.
Canaveral National Seashore – the pristine one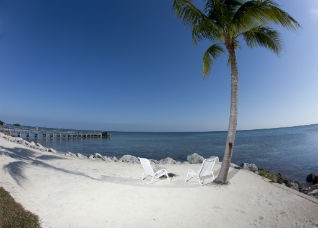 If you are looking for nothing more than sun, sea and sand then Canaveral National Seashore is the beach for you.
Many rules have been put in place to keep this expanse of sand looking so perfect, and that's the reason so many people love it.
The last untouched beach in the area, Canaveral has a slightly wild feel, carefree feel to it, which is, of course, what makes it so appealing. It's not that much further away than the other beaches on this list (around 70 minutes' driving time), making it the ideal place to escape the intensity of Orlando – if only to recharge your batteries before you head back for more!
You won't find any surf shops, entertainment complexes or beach-side restaurants here, so be sure to take plenty of provisions with you if you are planning to spend the whole day out on the sand.
Melbourne Beach – the quiet one
At two hours, the drive to Melbourne Beach may seem like a long way to go, but when you get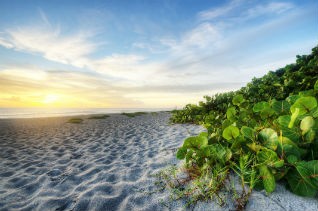 there you'll be glad you've made the effort.
This quiet little place is perfect for families or couples who want to escape the crowds and just relax on the sand.
It's a little-known gem where the kids can play in the sand, and you can unwind with a book or just bask in the hot Florida sun.
When the tide is low, you can see the remarkable reefs that usually lie beneath the surface of the water.
Miami Beaches
If you are tagging Miami onto the end of your trip – which we strongly advise that you do – there are a number of incredible beaches for you to experience here also.
The beauty of Miami is that there's a beach for everyone, whether you're after the glamour of South Beach, the rugged charm of North Shore Open Space Park or the dramatic views of Hobie Beach.
Suggested Pages
We can combine any destinations in the USA together to create you a unique Multi Centre itinerary. For some example itineraries please take a look at our page. Alternatively please contact us so we can discuss your requirements and send you an example itinerary.