Cuisine should be a big part of any trip, but the range of tastes on offer in Malaysia make it of special note here. With Indian, Chinese, Nyonya and traditional Malaysian influences all on offer to tantalise your palate, the country is a real foodie's haven.
The only real issue with the food in Malaysia is that there's so much variation, it can be hard to try everything in one trip! So with that in mind, we've put together an itinerary that takes in some of the nation's signature styles and dishes – a taste tour of Malaysia, if you will.
Kuala Lumpur – traditional Malay food with a luxury twist
Flying to Malaysia from the UK is very straight forward and so you will begin your culinary quest in Malaysia's capital, . Of course, with this being a major city, you can pretty much get any type of food you want. But you haven't come all this way for a McDonald's.
As you're in Kuala Lumpur, why not try some of the finest restaurants that prepare Malay food with a high-end twist?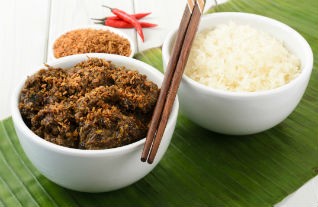 Traditional Malay food utilised a wealth of herbs and spices, and the result is often spicy and incredibly flavoursome. Typical tastes include lemongrass, kaffir lime leaves, and pandan (screwpine) leaves, with herbs such as daun kemangi (variant of basil), bunga kantan (wild ginger), daun kesum (polygonum or laksa leaf), nutmeg and turmeric to make these unique tastes.
For a luxury take on a number of Malaysian classics, head to Bijan, an award-winning restaurant in the city. The 39 Restaurant in PNB Darby Park is another top-end eatery that offers contemporary versions of traditional Malay food.
You must try Beef Rendang at some point in your trip.
Kajang, Selangor – the Satay Town
Satay (or sate as it is known locally) is a popular delicacy all throughout Malaysia, but for the very best, you will want to visit Kajang. Unofficially known as the Satay Town, people come from far and wide to taste what is arguably the finest satay in the whole country. This rich-tasting skewered barbecued meat is a must on a visit to Malaysia.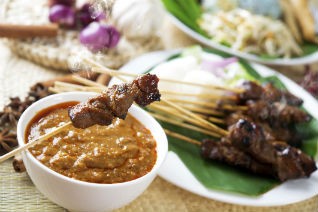 The headquarters of the famous Sate Kajang Haji Samuri restaurant chain is held here as well as the famous Malaysia Restaurant, which also specialises in satay. If you are only here for a day, why not have lunch at one and dinner at the other? After all, you are in Satay Town.
Kalang is very close to KL and a 30-minute road transfer would be the best option, which we will take care of – all you need to focus on is the food!
Malacca, Penang – Nyonya Cuisine
Nyonya cuisine is believed to have come about through the marriage of local Malays and Chinese immigrants over 400 years ago. The result has left Malaysia with another unique culture and a truly delicious variant of its cuisine.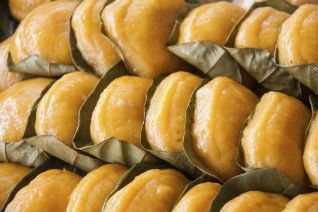 Native to Malacca and Penang, there are distinct difference to each. Malacca's version is much sweeter and richer, with coconut milk playing a larger role in the cooking process. Coriander and cumin are included to create a spicy flavour.
A two-hour drive will bring you to Malacca from Kajang and it is well worth stopping here to taste this delicious variant. After that, you can return to KL and fly to to sample the other side of Nyonya food.
If you have one thing in Penang, make it asam laksa, one of the city's three signature dishes. This spicy noodle soup is made with flavoursome fish and topped with fresh herbs and vegetables like onion and tomato.
Johor – Chinese Malaysian
Different from Nyonya, the southern regions of Malaysia are home to the finest Chinese Malaysian food and Johar is a great city to sample this in.
This cuisine is strongly linked to  its Chinese origins with dishes like Hainanese Chicken Rice being incredibly popular.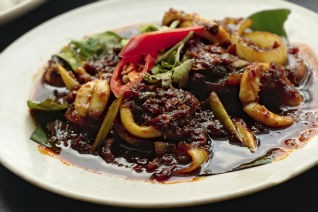 A direct flight here from Penang is the best option and it leaves you only a 30-minute drive from nearby Singapore, which has all kinds of incredible foods on offer as well.
One to consider – Mamak food
While on your travels in Malaysia, keep your eyes peeled for Mamak cuisine – you won't be sorry! This style of cooking originated from Indian Muslims migrating to Malaysia hundreds of  years ago.
You will find Mamak stalls up and down the country and their casual atmosphere and cheap food makes them very popular with tourists and locals alike. As you would expect from its origins, the food is curry based and a particular favourite is Roti Canai, a pastry pancake dipped in chickpea curry.
Contact us so we can create you a unique itinerary dependent on your tastes and interests, or take a look at our most popular  for more inspirational ideas.