is a city of contrasts. A place where ancient temples stand grandly in the shadow of modern skyscrapers and endless street food stalls rub shoulders with fancy new restaurants, there is rarely a dull moment in this city.
Often overlooked as a gateway to the rest of Thailand, Bangkok's unique streets are filled with culture and the famous Thai hospitality that draws so many to the country. From the neon buzz of Khao San Road to the solemn beauty of the Wat Traimit Golden Buddha monument, Thailand's capital is one of intrigue and excitement.
As many of our multi-centre holidays offer the option of visiting Bangkok, here's our guide for making the most of your 48 hours in the city.
Familiarise yourself
At first, you may feel a little overawed by the city's busy streets, but once you get your bearings you will come to realise that many of Bangkok's best attractions are located fairly close to one another.
The Thai capital's main area is located on the eastern side of the Chao Praya river known as Rattanakosin. Around this part of the city you will find the Grand Palace, Khao San Road, Chinatown, Siam Square, among other spectacles.
Taxi is often one of the most convenient and efficient ways to get around the city with hundreds zipping in and out of traffic on a regular basis. Alternatively, you can use one of the many Bangkok Mass Transit Authority buses that run through the city. While these offer incredible value for money, they can sometimes be a little crowded and uncomfortable.
Day 1
The Grand Palace
Kick off your visit to Bangkok with a little culture and beat the crowds to the Grand Palace,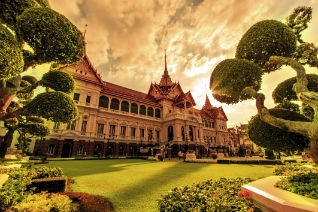 the official home to the kings of Siam.
Located in Rattanakosin, this huge complex will take the morning to explore fully, but it's well worth the time investment. Within its grounds, you will find the gloriously ornate Wat Phra Kaew, one of Thailand's most important and sacred temples. By getting here earlier in the morning, you are more likely to avoid throngs of other tourists, but it is still likely to be busy.
Afterwards, take in the glory of nearby Wat Pho, a huge reclining Buddha statue housed inside a resplendent temple. As well as being one of the largest temples in the city, Wat Pho is also one of the biggest Buddhas, making it all the more impressive. The Buddha itself stands at 15 metres high, but it is his serene, all-knowing gaze that is the most striking features of this giant statue.
Chinatown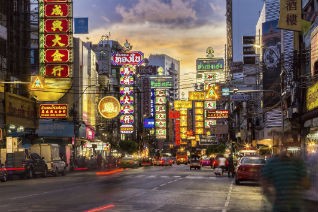 After Wat Pho, make the short taxi  journey across to Chinatown for some authentic and delicious street food. The main strip of area,  Yaowarat Road, is lined with amazing vendors all peddling their own delicious treats. Fried rice, seafood, noodle dishes; it's all here for you to take your pick from.
After you've gorged on something delicious, it's worth strolling through the Pak Klong Talad, a huge flower market in the northern part of Chinatown. This collage of vivid colours, smells and sounds is the perfect place to witness Bangkok's locals going about their day with spirited verve.
Take a water taxi on Chao Phraya River
The Chao Phraya River is one of the city's main transport routes, and you'll see hundreds of water taxis whizzing over its murky waters from dawn til dusk. Head from Chinatown to the water's edge and take one of these surprisingly quick vessels upriver to Wat Arun and the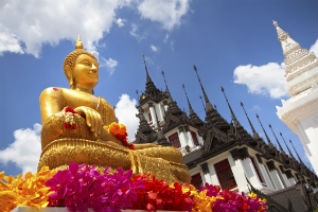 OldPalace.
These two monuments, the first a Buddhist Temple, the second a grand old building, are worth visiting, but shouldn't take more than a couple of hours.
Part practical transport option, part novelty, water taxis are great fun and offer a different view of Bangkok.
Sample Bangkok's nightlife
While part of Bangkok's famous nightlife scene leans towards the seedy, that doesn't mean you can't sample the city at night without having some safe, wholesome fun.
In recent years, many trendy rooftop bars have popped up in the city, offering a great alternative to the adult-themed entertainment that people often associate with Bangkok.
For fine dining and sensational views, Ku De Ta Bangkok in the Sathorn Square Building is the ideal place to start your evening. Afterwards, seek out either Octave Rooftop Lounge or Moon Bar, two establishments that come highly-rated in regards to Bangkok's burgeoning bar scene.
Day 2
The closest thing Bangkok has to an official centre, Siam Square is a hub of flashy shopping centres with some great cultural treats. After spending a few hours browsing the shops in this area, take in the Bangkok Art and Culture Centre, a museum filled with interactive experiences and authentic Thai art. Next, visit Jim Thompson's House, the infamous CIA agent who once resided in the city and helped revive the country's silk trade. Take a tour of the house that comprises of six traditional structures all fused together.
Or Tor Gor farmers' market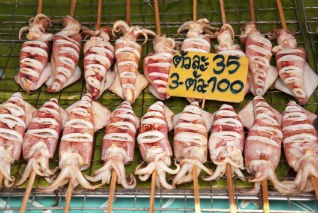 In the afternoon, head over to the Or Tor Gor farmers' market for yet more authentic Thai street food. Once again, the choice is staggering, but you can be assured that you will discover something incredible, whatever you pick.
Some of Bangkok's best food is available here, so be adventurous and try something out of the ordinary.
Not only a place to eat, this weekend market offers you the chance to experience the famous Thai hospitality, as well as the country's culture up close.
Khao San Road
In the evening, head to the backpacker hotspot Khao San Road for cheap food and a few entertaining drinks.
Due to the cheapness of this area, many Thai locals have begun to frequent the bars here, creating a great mixture of tourists and locals. There are so many bars here, it's hard to single out any in particular. Brick Bar and the aptly-named Bangkok Bar are two very popular venues, but half the fun is just picking a place you like the look of.
The party vibe here is infectious, and even if you're not up for a big blowout, it's fun to stroll down the street, watching the hedonistic revellers start their nights out. For an evening on a budget, you can't go wrong with this part of the city.
For more information about a , contact our team of experts today.