As experts of the travel industry, we consider ourselves veterans of the airways. Between us, we've been to the edge of the world and we've experienced every type of flyer imaginable – including ourselves!
But which one are you? Read on to find out.
The Sleeper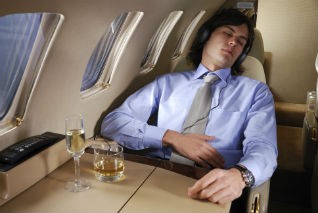 This snoozing breed of flyer can be found on most planes, head cocked back, mouth open, blissfully unaware of everything and anything around them.
As soon as the Sleeper's seatbelt is clasped and the eye mask is on, they become almost unwakeable for the duration of the journey. On rare occasions, you will catch a glimpse of them awake, as they rise to visit the bathroom or feed on the inflight meal. As soon as these needs are dealt with, they will descend back into the pleasant slumber of inflight hibernation.
While the Sleeper is undoubtedly a peaceful being, they can cause anger with fellow flyers. However, this is usually the work of the lesser-spotted Snoring Sleeper and can usually be addressed by the gentle nudge of a loved one.
The Wide-eyed Entertainment Guzzler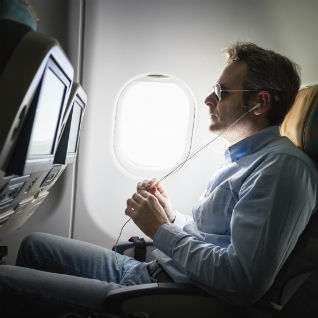 The Wide-eyed Entertainment Guzzler is a largely nocturnal flyer that consumes media and entertainment at an alarming rate. After going through an entire season of Friends, this flyer will then tackle back-to-back Hollywood blockbusters before attempting to challenge other passengers to an inflight chess game.
Immediately distinguishable by their wide eyes and headphones, it's best not to disturb this flyer until you are sure the movie is over, lest you want to feel their grumpy, sleep-deprived wrath.
The complete opposite of the Sleeper, this type of flyer can be seen basking in the blue glow of their inflight entertainment screen, long after the lights have been turned out on the plane.
The Seat Hog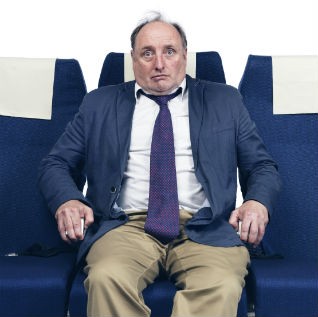 The Seat Hog cannot be confined to one space; not because of their size, but due to an uncontrollable urge to spread out as much as humanly possible. They do not do it on purpose; they just cannot help taking up both arm rests.
It can be incredibly frustrating to fly next to a Seat Hog, but luckily, they are rare and easily dealt with. A polite word will usually see this flyer retract their limbs to within the confines of the designated seat.
As an added note of caution; during sleep, this type of flyer will almost definitely end up slumped over your shoulder as they seek out a comfortable place to slumber.
The Young Bawler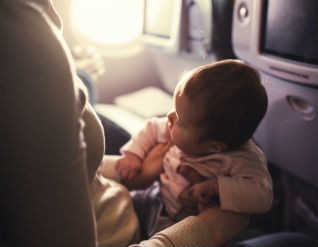 The most feared of all flyers, the Young Bawler has the ability to disturb even the most dormant of Sleepers with their piercing shrieks.
When dealing with a Young Bawler, patience is the key. Often accompanied by two tired-looking, distraught parents doing their utmost to calm the poor Bawler down, you should keep your distance and not offer any unhelpful, or angry comments – you may have been a Young Bawler yourself at one point.
The Terrified Flyer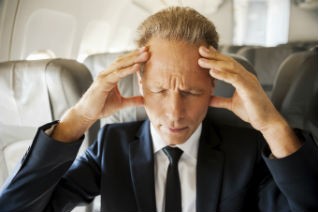 Quiet, yet agitated, this breed can be immediately identified by their uncomfortable disposition. Indeed, the Terrified Flyer hates all things air travel, from the whoosh of the take off, to the jerky thump of the landing.
Usually, you will see this individual sat straight-back in their seat, eyes closed, breathing deeply until the plane is in the air. At this point, after two or three gin and tonics, the Terrified Flyer begins to loosen up, temporarily putting their fears on hold until the aircraft begins to descend at the end of the flight.
The Stag or Hen Member
This boisterous flyer often travels in packs of ten plus. Immediately noticeable by their garish, matching t-shirts, the Stag Member will usually set about consuming alcohol at an alarming rate in preparation of a weekend of hijinks. Short-haul flights are the common habitat for this type of flyer, as many lack the stamina required to drink continuously during an 11 hour flight to Thailand – although this is not unheard of in isolated cases.
Generally harmless and well meaning, the Stag Member should be viewed as a source of entertainment as opposed to one of annoyance.