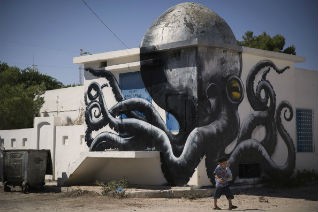 When you think of , it's unlikely that street art is the first thing that springs to mind.
In fact, for the most part, graffiti is unwelcome in the country, apart from in one unique village, where it's not only accepted, it is encouraged!
Erriadh, located on the island of Djerba, has invited 150 international artists to leave their mark on its walls as a part of the street art project "Djerbahood".
Street artists from 30 different nations have taken part in the forward-thinking display which has been organised and curated by Tunisian-French artist Mehdi Ben Cheikh.
The murals appear on warehouse doors, gates, houses, derelict buildings and even scrapped cars, adding colour and curiosity to an authentic Tunisian village.
Brazilian artist Tinho, whose works could be seen throughout his homeland during the World Cup, has contributed to the project, while Belgian ROA has also created numerous works across the town.
Highlights include a curious kitten, gigantic octopus and a spectacularly dressed seamstress, to name but a few.
Indeed, the juxtaposition between this traditional Tunisian village and the artwork that now adorns its buildings has created a truly remarkable gallery that's not to be missed.
Travellers from big cities may be used to seeing graffiti as a part of their daily commute, but the style of the architecture that now canvasses the wide array of street art makes the project come to life with an originality that few will have witnessed before.
What makes Erriadh an even more extraordinary site for such a contemporary art display is the fact that it is one of the oldest villages in Tunisia.
It's also a place of great diversity, with people of all different faiths living side-by-side for centuries.
Being located on an island, the village is in close proximity to a number of fantastic beaches which makes it a popular spot for tourists who are looking for more than street art.
Image: ROA's giant octopus mural (Image credit: JOEL SAGET/AFP/Getty Images)