La Pointe aux Canonniers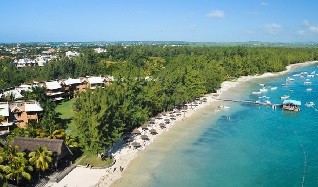 On arrival at the first hotel we were greeted by a few of the hotels G.O's (Gentil Organisateurs), Club Med's very own ambassadors, there to get you in the Club Med spirit. We were shown to the reception area for our welcome meeting, a lovely spacious area that lead to the pool, an area which I can only describe as stunning.
We were then given our room keys so we could go and unpack. When I opened the door to my room I was taken aback by what I saw, it was amazing. The room was designed and fitted to a high specification, it was spacious and then when I opened the patio door, I walked directly onto a grassed area and took in views of the Indian Ocean, it took my breath away, 'priceless'.
From that moment on the whole concept of Club Med's 'do as little or as much as you like' totally took over. There was a wide choice of water sports on offer, land activities, even an archery academy, there was just too much to mention. Feeling brave I gave the water skiing ago… not with a lot of success I might add, but never the less lots of fun.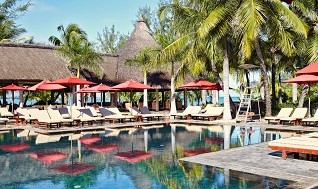 All the sports and activities do come in useful to counteract all the lovely food and drink that I found myself keep eating and drinking. However with the truly breath-taking setting on offer, you also just have to find a quiet spot, take in the views and simply relax.
I was so impressed by my first experience of Club Med. Yes it was a great family resort with endless facilities to keep the kids entertained and plenty you could do as a family. It was so much more though, and really catered for adults without children. A great all-round property that I'd highly recommend.
La Plantation de Albion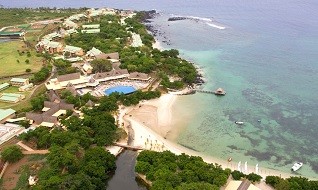 After visiting the 4 star La Pointe aux Canonniers I had high hopes for this 5 star resort, but it even exceeded them. The only way to describe La Plantation de Albion is simply WOW; even the amazing reception area gave me a very good idea of what a treat I was in for.
The resort has fantastic facilities for anyone wanting an active holiday, but also for those wanting to do nothing more than relax and be pampered. To be honest I'm more in to the latter but when else can you give the flying trapeze a go, or try your hand at a touch of archery, so I gave it a blast and loved it. All I can say though is I'm glad I've not had to upload the video of me on the trapeze.
After all the hard work of a day trying my hand at circus skills, I headed to the 'Zen' area, which is all about total relaxation. What a place, this is 5 star luxury at its finest, it's also an adult only area so is completely peaceful and an ideal place to spend endless days doing nothing more than enjoying a nice drink and the great Mauritian weather. So I sat there on the edge of the infinity pool, looking out to the ocean, and working up an appetite for the evening's sumptuous banquet.
I had to start thinking about what I'd have before I got to the restaurant, as there's so much choice, I would have been walking around the restaurant for an hour and still not been able to decide… There's a food station offering every cuisine from all around the world! The quality of the food matches, if not exceeds any of the other 5 star hotels on the island, and I have to say how impressed I was.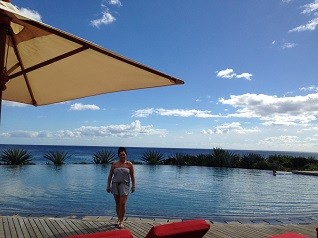 Enjoying an after dinner cocktail I started to plan the following day… aerobics maybe… or maybe not… depends how I feel. This is the fantastic thing about Club Med, you're never pressurised into doing anything but fully supported by qualified G.O's if do take part.
The Albions entertainment in the evening was amazing too and the G.O's really do put on the performance of a life time, every night, from 'Black Swan' to the 'Circus du Soleil'.
So as I left for home I knew I'd never hesitate to recommend either resort to a family, couple or a single traveller as I now know they'd have the most amazing time.