Miami is pure glamour; swaying palm trees, multi-coloured Art Deco buildings, miles of golden sandy beaches – it's simply iconic.  There is so much to see and do in Miami but any stay here must include chilling out at the beach, going out for a great meal and partying until the small hours – this is Miami baby!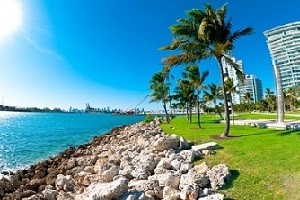 For beaches, you've got to head to South Beach – this is where it's at.   Its' been called the American Riviera and with its Art Deco buildings and fine white sand, this is the Miami you will have seen a million times on TV.  Take a stroll down Lincoln Road for the ultimate Miami experience; with its world class shopping it's also THE place for people watching!  The whole area is buzzing all the time, but after dark is when it becomes a world-class party place.
When you're here, head to the Art Deco Historic District located between 5th Street and 23rd Street.  You won't miss the 1930's coloured buildings that the area is so renowned for, also look out for the porthole windows and shiny curves so indicative of this style.  For a spot more culture head north of Midtown to an area known as The Design District.  This creative area is home to over 130 galleries and exhibitions, so check out what's on when you're here.  As well as galleries this district is also home to lots of high-end designer shops and great restaurants; Gloria Estefan has recently opened Estefan Kitchen which is a fine-dining Cuban restaurant here.
Downtown Miami is the bustling business district with over 300 skyscrapers and it is also full of great restaurants and stunning bay views.  The city is heaving with so many restaurants, but don't just go to the new place that's the latest favourite.  There are loads of great Cuban places that are some of the best restaurants in town thanks to the large Cuban population.  Head to the Little Havana neighbourhood for the real deal, the kitsch Cuban diner 'Versaille' is an institution here.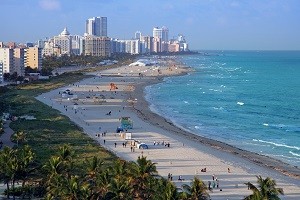 The most classic Miami restaurant is Joe's Stone Crab, this is a must to visit in South Beach, have the local Stone crab followed by the local Key Lime Pie.  Lure Fishbar in the Loews Hotel is a great place for sushi lovers and Yardbird is fantastic for delicious Southern comfort food – think fried green tomatoes and its own bourbon bar.  Seaspice on the Miami river is a chic spot for seafood along with a bit of star spotting.
Coconut Grove, a district to the south of Miami, is a lovely place to wander around.  With Bahamian roots this is an old neighbourhood that has a brilliant contemporary feel to it.  The tree-lined shaded streets mean it's never too hot and you can browse the boutique shops and restaurants.   Other good places to shop is the nearby Merrick Park as well as Dadeland and Gulfstream Park.
A real must if you are in Miami between the end of October to April is to get tickets to see a Heat Basketball game, it is a really fun experience for all ages.
Combine Miami with the Keys….
If you've got more time take a car and drive out to the Keys along the Overseas highway.  With the Atlantic on one side and the Gulf on the other, the journey along this iconic highway is truly amazing.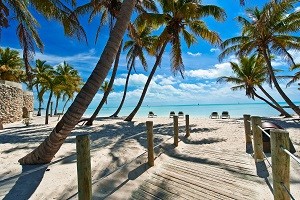 Surrounded by aquamarine water and spoilt with glorious sunrises and sunsets, The Keys are an incredible place to spend a holiday and relax away from the city.  Make your way to Key Largo, this is the perfect place to explore the reef.  Take an Everglades tour to spot some 'gators and discover the unique eco system amongst the mangrove swamps. Also enjoy the magical coral reef with a glass-bottom boat trip or learn to scuba dive for the ultimate close-up experience.
Midway along the Keys is Duck Key, a small island perfect for watersports and relaxing.  Visit Dolphin Connection to admire these amazing creatures or even swim in the saltwater lagoon with them.  Have a day out fishing in the Atlantic or in the shallow waterflats.  With jetskiing, paddle boarding and loads more, there is a water sport for everyone to enjoy in these idyllic waters.
Head on to Key West, the very most southern point of the , and enjoy the Latin American lifestyle to the full.  This island is the final frontier of the USA and as such is eccentric and non-conformist, as well as being a truly beautiful tropical island.
Together really makes a fantastic holiday, check out our itinerary for more information.