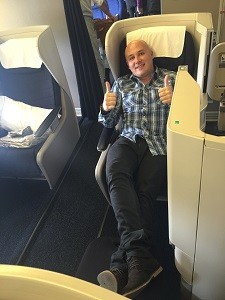 I was lucky enough to be one of 49 agents from around the UK, picked to take part in a California Super-fam. This was my first visit to California and what an experience! There were 5 different itineraries taking place around the state, all with very different themes. I was put into the "Entertainment and Culture" group, we started in San Diego, travelled on to Huntington Beach, before finishing in Los Angeles. Then we met with the other 4 groups in Sacramento for a grand finale party!
I met the others in my group at Heathrow Airport, and whilst we waited for check-in to open we got to know each other over a couple of drinks… well it has to be done doesn't it! When we reached check-in British Airways had a surprise for us, we'd all upgraded to Business Class seats. It was the second time I've been lucky enough to fly in Business and the experience will never tire, it's such an amazing way to fly. Thanks very much BA! The flight was great, I also managed to get a few hours' sleep. So even after an 11 hour flight I wasn't feeling too bad when we landed in "America's finest city", San Diego.
On arrival we made the short journey to the Omni Hotel where we were spending our first two nights. Upon checking in to the hotel we couldn't help but notice the huge baseball stadium right next to the hotel where a game was taking place for the San Diego Padres. The hotel is actually attached to the stadium via a walk-way, and is one of only 2 hotels in the state that has this kind of facility, so the hotel is a must for sports fans!  We even learned on the news the following day that a woman actually gave birth whilst at the game… one way to get a life time season ticket ha!!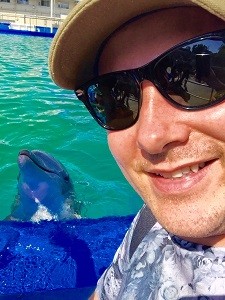 On our first morning we were all up bright and early and off to SeaWorld. We had a fantastic behind the scenes tour which took in the various aquatic mammals and animals, we even got the opportunity feed a pregnant dolphin! We then had lunch at the gorgeous Del Corando Hotel which is an iconic San Diego hotel, built over 125 year ago. It sits on one of the USA's best beaches and is stunning. Then we were lucky enough to actually have a few hours to experience one of the many local shopping malls, The Fashion Valley. San Diego is fantastic for shopping, and American brands like Levi's, Hollister and Franklin and Marshall are miles cheaper than in the UK, so it's well worth taking some extra spending money and getting yourself a bargain whilst there.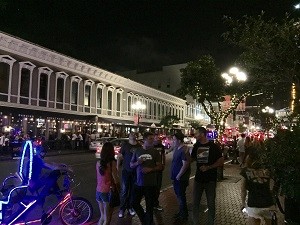 After our evening meal at the beautiful Bahia Beach Resort we got to see first-hand one of the things that San Diego is famous for….. The night life at the Gas Lamp Qtr! This is the main street in central SD for an evening out and features a fantastic array of bars and restaurants. It has to be one of my favourite places in the USA due to the number of bars located in such close proximity of each other. We were taken to a really cool "speak-easy" style bar which we wouldn't have known was there if we hadn't had a guide with us.  They did some of the nicest cocktails I've ever tasted and it had a really relaxed and fun atmosphere.
I really enjoyed San Diego.  It's a laid back city that's so easy to get around, it has stunning beaches, fantastic bars & restaurants, great sports events and a mix of hotels. It would definitely be suitable for all age ranges as there's so much to see and do. The weather is also some of the best in the USA.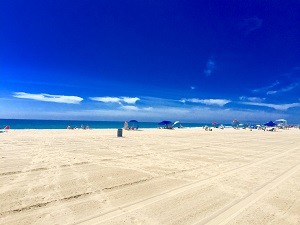 After San Diego we made the short drive north up to Huntington Beach which takes around 1½ hours. Out of all the places we visited, Huntington Beach (Surf City USA) was the one I knew least about, but it ended up being my favourite part of the whole trip, and I'm pretty sure that most of the others in the group would say the same thing. This was due to its fantastic beach which was around 10 miles long, it was so easy to get around and it had a really relaxed vibe. The local restaurants were great too, like BLK where I had a mouth-watering surf and turf, and Dukes where I had their famous Hawaiian style burger. It just totally sums up what you want from a Californian holiday.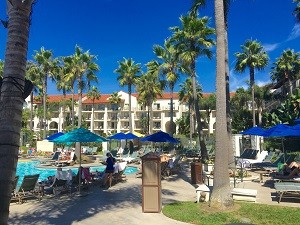 Whilst in Huntington Beach we stayed at the Hyatt Regency which is a gorgeous hotel, right opposite the beach and the only hotel in the area to have direct access to it via its own private walkway. The hotel had two main pool areas, both with hot tubs and bar service and one even has water slides for children… or big kids! The grounds of the hotel were immaculate and the gardens and spa area were stunning. I'd highly recommend this hotel as although it's not the cheapest you definitely won't mind paying the difference when you see how stunning it is.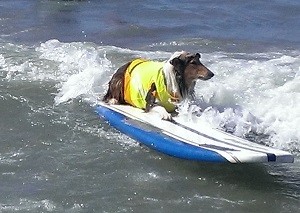 Whilst at the Hyatt we also hired bicycles from the hotel, and due to how flat the beach was we cycled along it for around 4 miles, taking in the sights, as well as some sunshine.  We were also there whilst a surfing competition was taking place… no ordinary competition either, as those taking part were actually DOGS! They had different categories from small dogs like Chihuahua's, right up to large dogs like Great Danes. It was really fun to watch and the dogs loved being in the water too, plus I can now say I've seen a dog on a surf board and to be fair they were miles better than I would be!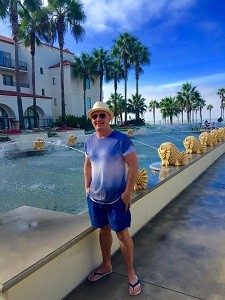 The beach is obviously the hub of Huntington and you can really see this at the weekend when all the locals gather to have beach barbecues, along with taking part in the various events and actives on offer. On our final night we enjoyed an evening bonfire which was taking place during the Luna eclipse and we got the chance to make S'mores which Americans are crazy about… Basically toasted marshmallow which you then place onto a chocolate wafer to devour, I can now see why they like them so much 🙂 If you get the opportunity to fit Huntington Beach into your , don't think about it just get it included, you honestly won't regret it.
Next on the itinerary was "The City of Angels" Los Angeles, which is around 45minutes to an hour depending on traffic (which Los Angeles has a lot of). We were based at the Angelino Hotel which is in the Beverly Hills area of the city. It wasn't too central though, so if you are over that side of the city I would highly recommend hiring a car for getting around, as there isn't too much located by the hotel. To be honest I would always recommend car hire anywhere that isn't central Hollywood as the city is huge, plus then you have the freedom to travel to places like Disney or Six Flags themes parks, along with the beach areas like Santa Monica.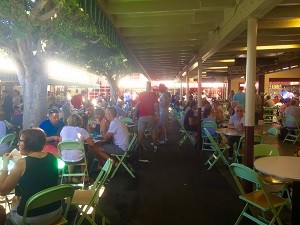 Upon Arriving in LA we visited the local farmers market which has been there since the early 1900's. It's a centre, not just for locally produced food of which they have hundreds of stands and cafes where you can sample whatever takes your fancy, but there is also a big shopping area too which still has an old 1930's tram that's free to ride which takes you to the main shopping street a few minutes away. They have every single imaginable type of food on sale from pizza, southern soul food, right to Chinese and Brazilian, so it's a really good way to spend a few hours having a great foodie experience. I found a shop that sold red hot chilli sauces and they must have had easily over a 10,000 different types and the one I bought was "off the chart" hot… I have tried a pin head sized amount since returning home and let's just say I won't be using it very often, it blew my socks off!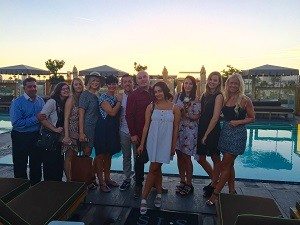 We then visited Rodeo Drive Beverly Hills for a spot of window shopping at the various clothes and jewellery shops. I would have to sell my car to be able to afford anything, but it was nice to see the iconic street made famous in films like Pretty Woman. We then took a look around the stunning boutique hotel "SLS". I have to say it's one of the only hotels that I have visited where everywhere you turn you say "WOW". It's unbelievably upmarket and it takes "Boutique" to a completely new level.  Then for our evening meal we went to The Bazaar by Jose Andres which is located in the SLS hotel… it has previously been voted the 5th best restaurant in the world and was by far the fanciest place I've ever eaten. We had an 18 course taster menu which was incredible and it featured things like caviar cones, Kobe beef and liquid mozzarella, along with cocktails such as candyfloss and a liquid nitrogen margaritas! Definitely somewhere to try if you want to spoil yourself.
The next day after breakfast we made a brief visit to the Getty Center which is a museum finished in 1997 and funded made by J. Paul Getty, an American industrialist who was the richest man in the world before his death in 1976. It has amazing panoramic views right over Los Angeles and is home to billions of pounds worth of modern paintings and sculptures. It's free to enter and is one of the most visited museums in the USA.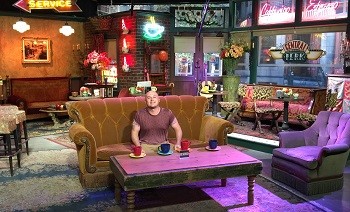 Later that afternoon we got the opportunity to visit the world famous Warner Bors Studios for a behind the scenes tour. We got to see costumes from all the recent Batman films and even the costumes for the upcoming "Batman vs Superman" film, along with a collection of around 10 Batmobiles which were worth a cool million dollars each. We were also shown memorabilia from all the Harry Potter movies, as well as various famous sets which included the TV series "Friends" where I actually got to star in my own episode playing "Joey" along with Monica and Phoebe… well they were only super-imposed into the scene along with me, but it still looked real! I thoroughly enjoyed the afternoon and would recommend this to anyone who's interested in TV and films.
After a quick change we made our way to the famous 'Walk of Fame' where we had a brief stop to look at the stars on the walkway. Then we went to the Chinese Theatre which features the hand prints in cement of famous Hollywood stars from throughout the years, I spotted Tom Hanks, Bruce Willis and Arnold Schwarzenegger's hands to name a few! We also went to the shopping centre at the back of the Chinese Theatre to catch a glimpse of the Hollywood sign in the back drop on the hills… this was the closest we got to seeing it!
Across the road from the theatre, right in the heart of Hollywood Boulevard is the historic Roosevelt Hotel, which is where we had our evening meal. The hotel was first opened in the 1920's, and was part funded by non-other than Charlie Chaplin. The hotel is everything that Hollywood stands for and although it has been through refurbishments over the years, it still retains that 1920's charm which I loved. Marilyn Munroe lived at the hotel when she first started her career and we were shown the suite where she lived, which faced out on to the beautiful pool area where a pool party was taking place. If you want a luxury hotel that has a fun and original Hollywood feel to it, then this is for you. There are no other hotels like this in LA, it's truly iconic. Even if you don't get the chance to stay here I would at least recommend going for food or drinks. You might even bump into a celeb or two!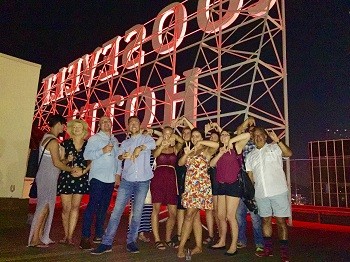 The next day we were up early for our flight to San Francisco for the grand finale in Sacramento. The Finale was held at Sutter Fort, right in the heart of Sacramento. It was used back in the days of the gold rush and has now been restored to its original condition and is now a national historic landmark. All the groups that were travelling on similar itineraries around California now got the chance to get on stage and speak about their experiences, sharing the memories of their trips with the other groups.
The morning before our flight home we got the chance to have a brief bike ride through Sacramento, but not on normal push bikes… these were brew bikes! They're basically a bar which you can have drinks at, that is moved by everyone who is sat at the bar pedalling, they were a really fun way to see Sacramento.
That brings my California adventure to an end. A big 'Thank You' to Visit California for putting such a memorable trip together! I hope you've found my post informative and if you wish to discuss anything or have any questions about a holiday you have in mind, please feel free to contact me.
Why choose eShores?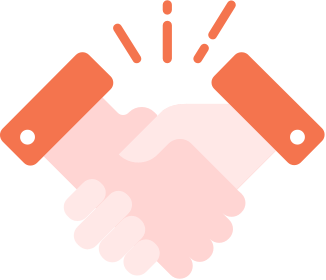 One to One Service
Our experienced personal travel consultants will ensure you find the most suitable holiday, whilst taking care of every last detail. Everything from start to finish will be effortless.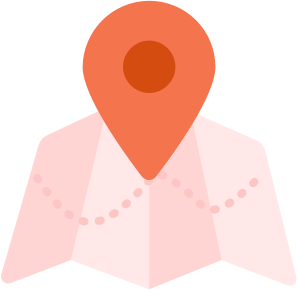 100% Tailor Made
We can use any hotel, in any destination, so we will craft an itinerary to suit your exact needs. Also, as we can provide any itinerary, the only holiday we'll offer, is the one that's right for you.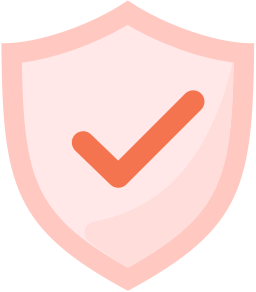 Fully Protected
Our ATOL bonding provides you with the financial protection you need and as a member of the Travel Trust Association, you'll have 100% financial protection. Covering you for any eventuality.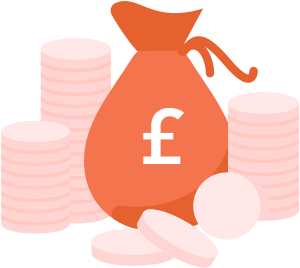 Competitive Pricing
As a tour operator & travel agent, we'll search the market to ensure that we find you the best price. Also as an online business, we can ensure our prices are as competitive as possible.
Excellent
4.93

Average
2198

Reviews
LouiseGarland

We have just returned from a multi centre Vietnam trip. What can I say, absolutely fantastic holiday from start to finish. Dave helped us all the way. We had a plan in our head and Dave took time to plan our perfect trip. Communication was great, letting us know promptly of any changes. We would definitely book again and highly recommend to others.

Posted 1 day ago

Hazel

We have recently returned from a multi centre holiday in Thailand. Everything went smoothly as planned, the hotels were all lovely. We would definitely recommend eShores and would book through them in the future. Thanks to Laura who organised the trip for us.

Posted 1 month ago

Heath

Been using eshore for several years,always come up with requirements we need.Always happy to rearrange. Staff are very knowledgeable and we always use Leanne as our point of contact. Experts for multi centre holidays.

Posted 1 month ago

DavidHurst

I booked two holidays in 4 months with Dave at eshores. First one a 16 day trip around Vietnam north to south which included numerous flights and taxis. My second holiday was in October traveling around Vietnam again and Cambodia. Every hotel in both countries was spot on, every transfer went smooth with no problems. I'll Definitely use eshores again and thanks to Dave who arranged everything, a fantastic experience 👍👍

Posted 1 month ago

Parr

Recently booked a four centre holiday to Asia. The process was straightforward and seamless. Rob, the agent who dealt with our requirements was extremely helpful and not pushy. He was very easy to talk with and seemed genuinely interested in our plans. He managed to put together exactly what we wanted and at a great price.

Posted 1 month ago

Horan

Andy at eshores has been great, he worked hard to meet all our needs and went the extra mile for us! We're looking forward to a great Honeymoon!

Posted 1 month ago

Jones

As always Michelle mainly but with some help from Leanne have once again booked an hopefully (as not yet travelled) amazing customised trip to America next September with our family this time.

Posted 1 month ago

Canning

First time I have used eshores and it won't be the last. Emma was so helpful in booking my 3 centre holiday to Portugal. Really pleased with accommodation selected and the overall cost. Emma was very quick to respond with different options and I'm looking forward to our holiday next year. I highly recommend this company

Posted 1 month ago

Hanagarth

We have just booked a trip to the Far East having previously used this company twice, Vietnam/Cambodia and a Road Trip in the USA. Both trips were problem free with all aspects going to plan. Easy to talk to and never pushing for a decision. A lovely company , thank you Dave for your time and assistance.

Posted 1 month ago

BillRoberts

We booked what appeared to be a busy holiday to South Africa and Mauritius. This consisted of five different fights and hotels with the various transfers included. Rachael organised the holiday for us and every aspect of the trip went well. Took a lot of the stress out and allowed us to have a fantastic holiday. Friendly,Professional service with professional staff. Will use them again.

Posted 1 month ago