If you are something of a night owl, then you will want to consider both destinations next time you are looking for a fun and exciting holiday. Trust us, you will have the time of your life.
New York City
"I want to wake up in a city that never sleeps" is how the Frank Sinatra song goes, and Ol' Blue Eyes himself knew that New York City was the perfect place in which to do this.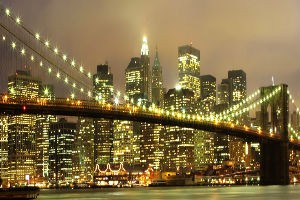 The best part? A lot of the activities that you can do at night are child-friendly, so you needn't worry about missing out if you are travelling with little ones, although we cannot predict how well they will fare staying up too late!
Times Square
Head to Times Square for that picturesque and iconic snap of the giant billboards all lit up and bright against the night sky. The area is always busy and filled with tourists who have come from all over the globe just to see this famous landmark.
There are a number of restaurants and bars open in Times Square, including Bubba Gump Shrimp Company, a seafood spot that is based on the Oscar winning film, Forrest Gump, from which, if you get window seats, you can see some of the world famous advertising boards all lit up!
A number of shops including Sephora, The Disney Store and Forever 21 (a must for all fashionistas who just love a bargain) stay open late from between midnight to two in the morning!
Top of the Rock
While the Empire State Building may be arguably the most famous of the two, if it's views you are after then you are better off heading to the Rockefeller Center. Why? Well, you get to actually see the Empire State Building from Top of the Roc.
While the comedy buffs among you will know that 30 Rockefeller is the address for some of the most iconic shows in American comedy, including Saturday Night Live, which recently celebrated its 40th anniversary, as well as The Tonight Show with Jimmy Fallon and, of course, 30 Rock, it provides the ideal location for a bit of night time sightseeing in NYC.
The last admission to the Top of the Rock is actually 11pm, so you have plenty of time to see the city all lit up.
Food, glorious food
Have you ever heard of The Halal Guys? Well, once you have seen the immensely large queue that leads up to the food cart you will definitely be aware of them. From 10am until 4am, if you happen to come across the guys, you will experience the greatest street food of your life. With six locations throughout the city, you are bound to stumble across them at some point.
There are a number of restaurants and cafes that are open 24 hours a day, ranging from modern establishments selling gourmet food, to small burger joints. Cafeteria on 119 7th Avenue and B.A.D Burger, which has venues in Brooklyn and Manhattan are some of our top picks.
Landmarks
One of the greatest things about visiting NYC is the fact that there are so many landmarks and famous buildings to see, that you can easily go sightseeing at night without either having to spend a penny, or need the sites to be open.
Simply wandering down by Wall Street, down past the Charging Bull and up towards One World Trade Center, where you can pay your respects at the 9/11 memorial fountain, which is simply stunning when lit up at night.
Why not take a walk up 5th Avenue, past the famous stores, such as Saks and of course, Tiffany's (the window displays at Tiffany's are always worth having a peek at) up towards the Plaza Hotel?
You can also enter Central Park up until one am, and if you can get a reservation at Tavern On the Green, we highly recommend that you do so. It is such a beautiful restaurant and the food is amazing.
Las Vegas
Viva Las Vegas! The ultimate adult's playground, the famous city in Nevada is the ultimate destination to head to if you want to have a really, really fun time. But be warned, this city really does not ever sleep, so you can expect a lot of late nights.
Casinos
First of all, Las Vegas is known for its gambling and it is within these hotspots that time really does stand still. The clever folks at the casinos have created them so that there aren't any windows or clocks to be seen. The air is also cool (which is heaven-sent given that you are technically in the middle of the desert) and it is believed that oxygen is pumped into the air to keep visitors awake.
Take it from us, once you enter a casino in Vegas, you will lose track of time. But you will be having so much fun that you won't care.
The Las Vegas Strip (or Las Vegas Boulevard) is where you will find The Bellagio, Caesar's Palace (Hangover fans note that no, he did not really live there), Planet Hollywood and the MGM Grand, among others.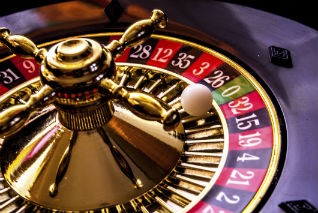 Head on down to Fremont Street if you fancy a bit more of an old-fashioned, rustic Vegas experience, where you will come across the famous illuminated cowboy and some of the more classic casinos, including The Golden Nugget.
Fremont Street shouldn't be overlooked as you can actually head down it on a zip-wire, which is insanely fun (although we don't advise you do it after drinking an oversized cocktail), and it is actually home to the Viva Vision screen, which covers the whole street and is either brightly lit with flashing colours, or screening a fun concert. There are also a number of free music gigs going on all over Fremont, so it is worth heading to!
Indulge in a buffet
The buffet's in Las Vegas are well-known. You can get an array of different cuisines in these amazing all you can eat venues and the majority of the hotels and casinos have them.
Buffets stay open late, so if you suddenly fancy a bit of seafood and a burrito at about nine pm, you are never too far away from getting such an eclectic mix all at once. Simply pay an entry fee and the world (well, the buffet) is your oyster.
Trust us, you will need all the energy you can get for a night in Sin City.
Head to New York and ride a rollercoaster
Las Vegas pays homage to its sleepless sister city with the New York-New York casino and hotel, which is built up to look like a small version of the city, along with a mini Empire State Building and Statue of Liberty.
There is also a fun rollercoaster here which is open until eleven pm and takes thrill seekers around the mini city, with the odd loop thrown in for good measure – again, do not try this after drinking a giant cocktail!
Get married
Should you and your partner want to, there is always the option to get married in Las Vegas 24 hours a day at the famous Little White Chapel.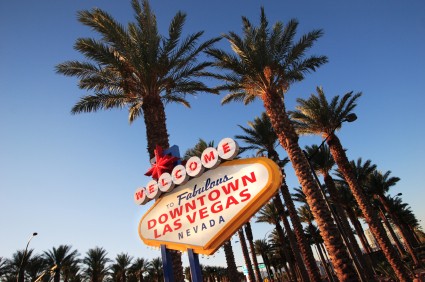 Many a celebrity couple has celebrated their union of marriage at the destination, including, of course, Britney Spears. In fact, the chapel has actually named a wedding package after one of its famous guests, Michael Jordan.
If you do decide to get married at the venue while in Vegas, a limousine will be sent to pick you up from your hotel to take you to the chapel of choice. However, we again advise that you don't do this after a few drinks!
Visit the cities that never sleep with our .