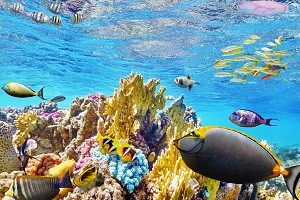 There are the idyllic beaches, the awe-inspiring Outback, the natural wonders of Uluru (Ayers Rock) and the Great Barrier Reef, and each State has a cosmopolitan capital city waiting to be explored.  There are also the mountains and winelands to visit, and don't forget that you'll need time to hit the beach, throw another shrimp on the barbie and chill-out Aussie style!
However, it's worth remembering just how vast Australia is – it's a massive 32 times bigger than the UK!  To give you some perspective, it takes at least 3 days to drive from Sydney to Uluru – the solution is simple; take some internal flights which are quick and affordable and choose exactly what you want to see to make it work for you.
The country's five main cities of , , Brisbane, and Adelaide make a great city-based itinerary.  Each with its very own distinct character, you'll get a great sense of the country by staying a few days in each of them and you can also easily get out into the countryside from each to see more of the area.  Sydney is glamorous with its' iconic landmarks, Melbourne sophisticated with its' café culture and museums, Brisbane is laid back and a great beach-side city, Perth has old-fashioned charm with an activity driven heart and Adelaide is foodie heaven with great wineries on its doorstep. For further details take a look at our itinerary.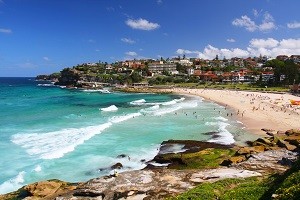 However, if you would prefer to see the country's natural highlights then follow our most popular 14-night itinerary and start with a few days in Sydney.  See the sights of the Opera House and Harbour bridge, hit the surf at Bondi Beach and enjoy time in the city whilst you get accustomed to the time difference.
Then head out on a road trip into the bush to the stunning – so impressive that they have been designated a UNESCO World Heritage site.  There's the Three Sisters sandstone stacks, the waterfalls along the Valley of the Waters walk and the jellybean pool for a dip – such clear skies at night also mean that stargazing is a must.  You can walk, cycle or horse-ride your way around the area and keep an eye out for the region's wildlife including kangaroos, wallabies and even bearded dragons!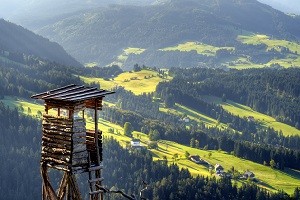 Head on to Hunter Valley, home to over 120 wineries and where some of the country's best vintage wines come from. There are cellar door tastings at boutique wineries and larger tours of the more international establishments and, when you can drag yourself away, there are loads of other activities around too from hot air ballooning to sky diving.
Return to Sydney and from there take a flight to the country's red-hot centre to see Uluru, the world's most famous rock that has existed for millions of years.  The best time to see Uluru is when it glows red at sunrise and sunset and the change in light on the rock is mesmerising.  Sunrise is less busy so try and set your alarm clock for an early get up, you can chill out later when it's seriously hot and all you want to do is lie by the pool.  Although you can no longer climb up Uluru, take a walking tour around the base and you'll be able to see its caves and fascinating rock art.
From Uluru take a flight to the north of the country to Cairns where you can see the other great natural wonder of Australia, the Great Barrier Reef.  The world's largest coral reef and largest living structure, it is home to a chain of nearly 3000 reefs and 900 rainforest-clad islands.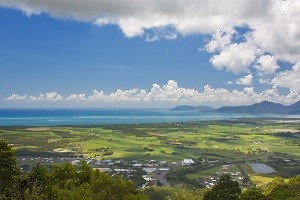 With unspoilt beaches and an ocean in a thousand shades of blue, this is the ultimate beach holiday destination.  However, when you can drag yourself away from the reef – preferably having seen it from the sky as well – you should explore the tropical rainforest inland.  Creeping right up to the shore, the lush rainforest at the Daintree National Park contains one of the oldest living rainforests on Earth.  With its waterfalls, rivers, deep gorges and mangroves it is an adventure waiting for you!
Having experienced the greatest sights of Australia you can fly back home still dreaming of coral reef and beautiful beaches, and maybe also planning your next trip back to this wonderful country!
For further ideas and itineraries take a look at our page, where you'll find all our most popular itineraries.