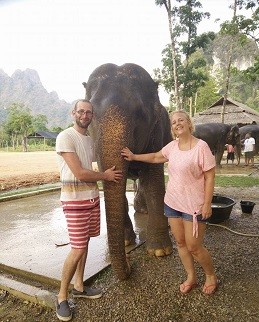 I chose to do the most popular 2 night, 3 day Jungle Lake Safari so that I could experience a variety of activities. We were picked up by complimentary transfer from our hotel in Krabi and driven 3 hours through beautiful scenery to our first stop, Elephant Camp, where we were greeted with ice cold face towels. We were then taken to our tent, one of 35 at the camp… not just any tent but a luxury tent with all the mod cons.
Various activities are included in the package our first being a scenic canoe ride down the Sok River. From here it was straight onto the most eagerly anticipated part of the day…our Elephant Encounter!!!
Elephant Hills is now home to 12 female elephants who were rescued after the Thai government made logging using the giant animals illegal. Many elephants in the country were made homeless as their owners had no use for them. Elephant Hills now looks after these ladies and they lead a well-cared for life.
First we watched the elephants interact with their Mahouts, their human caretakers who look after them and build an incredible relationship with their animals. We learnt about the animals and watched 3 of them have fun in a muddy pool. It was then our turn to get up close to these wonderful creatures as we got to wash them down with hoses and scrub their skin with coconut husks. The elephants also got their turn to get us with some water, which was very welcome in the Thai sun.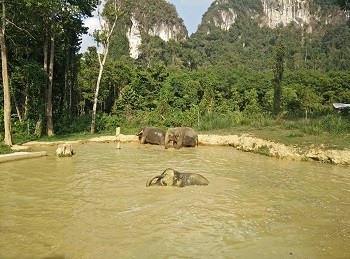 Once we had cleaned up these 3 the rest of the elephants were brought to us where we chopped up a variety of food to hand feed them. It really was an amazing experience that I'll never forget!!
It should be noted that Elephant Hills have been highly commended in the Thailand Green Excellence Awards and were the only finalist from Asia in the 2016 National Geographic World Legacy Awards for 'conserving the natural world'
Our evening was then spent back at Elephant Camp where we watched a film about elephants, were treated to some Thai dancing and enjoyed a cookery demonstration followed by a delicious meal.
The next part of our adventure started the following morning when we waved our goodbyes to Elephant Camp and made our way via a local market to Rainforest Camp on the Cheow Larn Lake in Khao Sok National Park. Here 20 luxury safari tents float on the water in a beautiful, incredibly picturesque natural setting. These are fully furnished with hot and cold shower, a proper bed and electricity generated by solar and wind energy.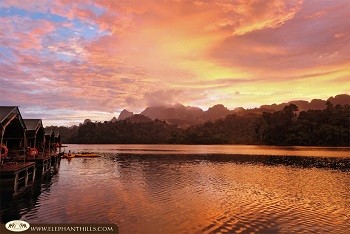 Wildlife in the area includes Gibbons, Wild Asian Ox, Macaque and one of the activities included in the package is a trek into the rainforest. We opted for a more laidback afternoon and enjoyed jumping in the refreshing lake directly from outside our tent and taking our kayaks out on the lake. The setting really is something else and it was a very enjoyable afternoon.
In the evening we enjoyed more delicious food and enjoyed the company of our fellow guests before turning in for the evening. We enjoyed a nightcap sat outside our tent and I don't think I've ever seen the stars shine so brightly, as there's no light pollution.
We were woken at daybreak by an almighty whooping noise. The whole jungle had come alive with the sound of gibbons calling to each other. We sat out to listen and watch the sunrise before having another few hours snooze.
After breakfast it was time for the final activity which was kayaking with a knowledgeable guide to show the surrounding rainforest and it's wildlife by water.
After lunch we said a said farewell to Rainforest Camp and took our boat back to the mainland where Elephant Hills then provided a complimentary transfer to my next destination of Khao Lak.
Elephant Hills provide complimentary transfers from Krabi, Phuket, Koh Samui and Surat Thani so it's very easy to fit into a . It really is an experience that I would highly recommend to anybody travelling to Thailand. The combination of the elephant interaction which is both ethical and in a small group setting, as well as enjoying time in some of the world's most beautiful natural scenery is a definite winner.