My girlfriend and I were lucky enough to travel to the Kuching area of Borneo as part of our this March.
After an hours' drive from the airport we arrived at the little village of Damai, where the Permai Rainforest Resort is located. Straight away we knew we wouldn't be disappointed. With a mountain backdrop and masses of trees and vegetation, it was a truly stunning setting, like something out of a movie.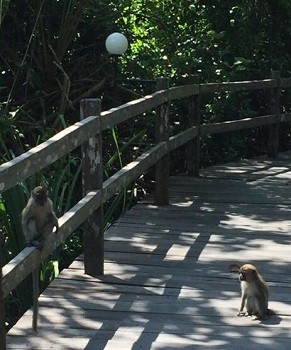 As we walked over the wooden bridge to the reception we could see Monkeys all around. Check-in was smooth and the staff were extremely happy and helpful. We were staying in Tree House number 9 and upon arrival at our room we were pleasantly surprised. We had expected a basic room, but it had a normal bathroom with all the amenities we needed (including air-con and hot water). Stepping out on to the balcony, we could hear the ocean which was only a few meters away from us and the sounds of animals and birds in the trees. The staff brought our cases to the room, so no need to worry about carrying them up!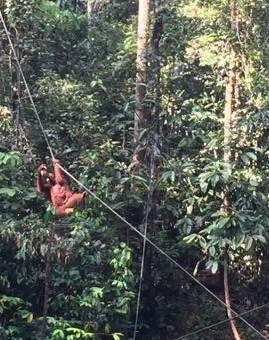 As we explored the resort more we came across their fresh water pool, filled with water running off the mountains. It was cold, but very refreshing in the heat. There are two beaches at the resort and I wasn't too sure what to expect as I hadn't planned to use this part of the holiday to lie on a beach, but I must say the beach was stunning, like something on a picture postcard.
There were also numerous activities on offer by the resort, from nature walks with or without a guide, flying fox and high ropes, canoeing and stand up paddle boards. They also provide numerous outside excursions, like to the Bako National Park, Satang Island with Dolphin Watching and the Evening Mangrove boat tours, which we opted for (we managed to see the Proboscis monkeys and fire flies). We also went to see the Orangutans at Semenggoh Nature Reserve and was luckily enough to see 4. It's not all about activities though as these are all optional, so if you prefer to relax, as I mentioned the beaches were fantastic!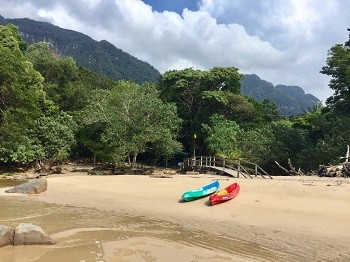 There is a little restaurant on site where they provide breakfast, lunch and dinner at some very reasonable prices. The resort also offers Cabins for larger groups or families.
If you like nature and are after something a little different, then this place is for you. We saw some fantastic wildlife, including monkeys, snakes and chameleons to name but a few.
I would certainly recommend the Permai Rainforest, we had such a fantastic experience and wish we could have spent longer there. I would return without hesitation.
Want to visit the Permai Rainforest?
If you're interested in visiting the Permai Rainforest, the best way is as part of one of our  For ideas take a look at our website, and we feature two itineraries on there which include the Permai Rainforest, that's our and our . We can however create any itinerary, and it's also possible to visit the Permai from other countries in Asia, so please get in touch and we can recommend the most suitable itinerary.