However, if you thought that this kind of wildlife encounter was the only reason to travel to Borneo, you need to think again, as this charming island is definitely not a one-trick pony. The orang-utans are, understandably, a highlight, but there is a lot more to discover.
We've selected a few examples of the varied things you can see and do during a holiday in Borneo to give you some inspiration.
Kinabalu Park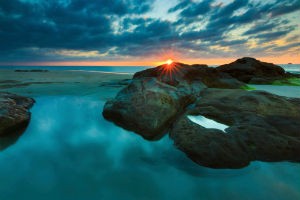 Kinabalu Park has the distinction of being Malaysia's first UNESCO World Heritage Site and is also a centre of plant diversity for South-East Asia, with more than 5,000 species of vascular plants found within its borders.
The reserve has been formed around the imposing Mount Kinabalu, a 4,095 m-high mountain that is one of the tallest in the region. It's possible to climb the peak and, indeed, many travellers do so every year.
There is also a Via Ferrata – or iron road – within Kinabalu Park. This is a type of climbing route, whereby a steel cable is run along the rockface and attached at regular intervals, while rungs are typically mounted in the rock too. The Via Ferrata here is on Mount Torq and, at heights of between 3,200 m and 3,800 m, is the highest of its kind in the world.
Of course, there are lots of less-strenuous routes to follow in the reserve and going on guided walks will give you the opportunity to see incredible flora and fauna, such as leopard cats, Malayan weasels, Kinabalu squirrels, blue-banded kingfishers, Muller's Bornean gibbons and the giant rafflesia plants, among many other fascinating species.
Batu Tulug
Batu Tulug is a fascinating site in the Sandakan division of the island. This is a series of three limestone caves, which are located in a cliff that stands some 39 m high. There is one cave at the bottom of the cliff, on a level with the forest floor, and two others that are higher up in the rock.
Aside from the remarkable natural structures themselves, what makes this a unique spot to visit are the dozens of carved wooden coffins that are stored here. These are thought to be between 200 and 250 years old and each has been designed to resemble an animal. It's been a museum since 1996 and there's a visitor centre where you can learn more about the caves and the artefacts that have been found here.
Kelambu Beach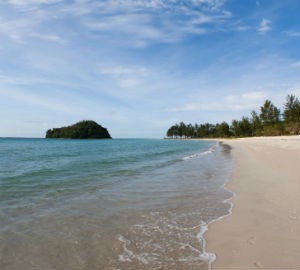 Kelambu Beach is located near Kutung and it's a fantastic example of Borneo's stunning coastline. Powder-soft white sand lines the shore, with deep azure waters lapping the beach. Aside from sunbathing in this wonderfully picturesque spot, you can also go snorkelling.
The waters in this part of the world are teeming with life and you'll discover a colourful environment of corals, darting fish and plenty more if you swim around the reefs that fringe Borneo.
Kuching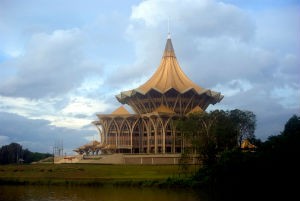 As one of Borneo's most exciting cities, a visit to Kuching will show you a very different aspect of life in this part of Malaysia, and one you may not have expected to find here. It has a very multicultural feel, having been influenced by the Chinese, the British and, of course, the Malaysians.
There are dragon-bedecked Chinese temples, ornate mosques, colonial palaces and modern developments full of shops, bars and restaurants. You can also visit a host of fascinating museums while you're in Kuching, including the Ethnology Museum, which covers Sarawak's interesting heritage, the Chinese History Museum, which provides an insight into the city's links with the Chinese community, and the rather bizarre Cat Museum, which is full of a variety of cat memorabilia.
Walking around the city's streets and admiring its varied and beautiful architecture is a treat in itself – you'll stumble across all kinds of gems as you explore.
Linangkit Cultural Village
The Sabah state in Borneo is home to 32 different ethnic groups, and if you visit the Linangkit Cultural Village you can learn more about just one of these – the Lotud people. They have some fascinating traditions and are happy to open up their village to visitors, allowing you to gain an insight into an incredible community.
A trip to the Linangkit Cultural Village will usually involve trying on authentic costumes, watching the locals making handicrafts, learning about traditional fishing techniques, having a cookery demonstration, going on a river cruise and even taking a firefly-watching excursion. It's a fantastic day out and allows you to appreciate yet another side of this incredible island.