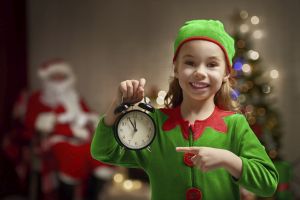 No-one celebrates Christmas the same, whether you live next door to someone or on the opposite side of the world. We all have our unique traditions but some of them are arguably weirder than others. Here are five of the strangest Christmas traditions from around the globe.
Krampus and Perchta
Father Christmas and his trusty elves are a classic yuletide image that brings warmth to the hearts of millions. However, if you're from the Alpine countries, the thought of meeting one of Santa's little helpers is a scary one. In this region St Nick is accompanied on his rounds by two demonic figures known as Krampus and Perchta. If Children are bad, legend has it that Krampus would put them in a sack and drag them to hell. Yet, believe it or not, this is the best of the two options as when Perchta gets involved, she rips open the abdomen of naughty whippersnappers, pulls out their guts and fills them with straw.
Skating in Caracas
Roller blading and Christmas are two things you probably don't think have much in common but in Caracas, Venezuela, you can't have one without the other. Early on a Xmas morn, people take to the streets on their roller blades to skate to mass.
This isn't the only slightly odd tradition going on in Caracas: children will often tie a rope to their toe before they go to sleep, hang it out of the window and when people skate by in the morning, they will tug on the rope to wake the children up.
Christmas meets Mother's Day
In the former Yugoslavian republics, Christmas can be slightly more stressful for mothers than normal. In the two weeks before the big day, they essentially live in fear of their children sneaking up on them, tying their feet to a chair and demanding presents by singing "Mother's Day, Mother's Day, what will you pay to get away?". If she wants to be free, she has to give them presents. Not to leave out Dad, the following week the kids do the same to him to get even more presents.
Throwing shoes
If you're single in the Czech Republic, Christmas Eve is when you can find out what your love life has in store for the next 12 months. A woman would simply stand at her front door, turn around and simply throw a shoe over her shoulder. If the toe points towards the door then it's time to celebrate as she'll be married within the year. However, if it's pointing away from the door it's another year in singledom.
Tio de Nadal
December 8th in Catalonia marks the day when children bring a log into the house, start to feed it and cover it up to keep away the cold. Why? Because on Christmas Eve if you beat it hard enough it will 'poop' out presents. Aah, festive.